Marijuana is still illegal under U.S. federal law, which means cannabis stocks are still speculative investments right now.
However, our neighbors to the north are creating a booming and more legitimate industry...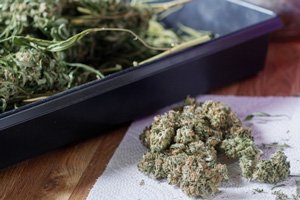 The number of medical marijuana patients across Canada has skyrocketed over the past two years. According to Statista, the quarterly number of registered medical marijuana patients was 30,537 between July and September 2015. By that same time in 2016, there were 98,460 registered patients, marking a 222% increase.
That's impressive, but it's just the start of how big the cannabis industry will be in Canada...
On July 1, 2018, Canada's Prime Minister Justin Trudeau plans to legalize recreational and medical marijuana throughout the entire country for adults aged 18 and over. By 2021, marijuana sales in Canada could total $4.5 billion, according to Bloomberg.
That's a 400% increase from the $900 million in legal sales in 2016.
And today, we wanted to make sure our readers know about three stocks that will benefit from legalization in Canada.
These aren't recommendations. Rather, these are marijuana stocks on our watch list.
Now, let's get to the first pot stock to watch...
Cannabis Stocks to Watch Right Now, No. 3: Emblem Corp.
Emblem Corp. (OTCMKTS: EMMBF) produces and sells medical marijuana throughout Canada.
Video
Which States Will Legalize Marijuana Next?
It also operates a health unit called GrowWise Health. The health unit provides comprehensive physician and patient education programs on medical marijuana. Patient educators provide personalized guidance on marijuana consumption guidelines, strains, safety precautions, and follow-up care.
Physicians are provided with a "best practice" checklist, protocols, and a comprehensive follow-up care package.
BREAKING: New Legislation Could Turn Tiny Pot Stocks into Millions. Click Here...
Acting as an all-in-one service for medical marijuana, Emblem's business formula could create massive sales. Patients are provided with health information through GrowWise on what cannabis to purchase, and then they are able to buy medical marijuana through Emblem.
As of May 18, approximately 2,100 patients have enrolled in Emblem's patient fulfillment website since November 2016.
And when marijuana is completely legalized in Canada, it will be easier for even more patients to enroll.
EMMBF stock has been volatile over the last 52 weeks, trading between $1.14 and $3.81 per share. So far in 2017, the EMMBF stock price is down 27.5%.
And even though EMMBF is down now, it's on our watch list because it could rebound as EMMBF increases its patient totals when marijuana is fully legalized.
While Emblem is building its client list, we are also watching the largest network of referral-only medical marijuana clinics in Canada...