Cannabis sales are expected to reach at least $20 billion by 2020, which means forward-thinking investors need to know about the top marijuana penny stocks today.
You see, it's a matter of when, not if, medical marijuana will be legalized in all 50 states. Right now, 29 states and the District of Columbia have already legalized cannabis in some form.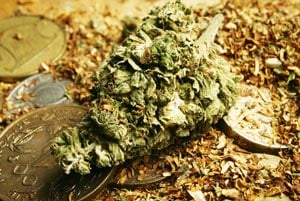 And when medical marijuana is completely legal, recreational marijuana legalization won't be far behind.
In 2016 alone, California, Maine, Massachusetts, and Nevada voted to legalize recreational cannabis.
But because cannabis is still illegal under federal law, these penny pot stocks aren't recommendations. Rather, these pot stocks are simply on our radar as medical marijuana becomes legalized throughout the United States. Here are the marijuana penny stocks to watch right now...
Marijuana Penny Stocks to Watch, No. 3: Future Farm Technologies
The first marijuana penny stock on our watch list is Future Farm Technologies Inc. (OTCMKTS: FFRMF).
Throughout North America, FFRMF develops lighting fixtures and products for residential and commercial applications. And as more states legalize marijuana, there will be an increased demand for these fixtures.
We're watching Future Farm Technologies this week because it just launched an update to its e-commerce website on June 1, 2017. According to the company's June 1 press release, FFRMF updated LEDCanada.com to "better reflect its product line and respond to growing consumer demand for LED grow lights."
The website is now optimized for mobile devices and search engines to help potential customers find LEDCanada.com online and buy their products.
BREAKING: New Legislation Could Turn Tiny Pot Stocks into Millions. Click Here...
Future Farm will also update the website with blog articles, company announcements, and client success stories, which will keep the site current and help spread their message. An improved website that's easier to find and order products from could increase sales, especially as states continue to legalize marijuana.
The FFRMF stock price has dropped 24.15% so far in 2017, but it's still on our watch list as the new website could help increase revenue.
FFRMF stock has traded between $0.05 and $0.75 per share over the last 52 weeks.
And the next two companies on our watch list use a unique compound from cannabis in their products that could generate massive sales...