Cannabis sales are expected to reach at least $20 billion by 2020, which means forward-thinking investors need to know about the top marijuana penny stocks today.
You see, it's a matter of when, not if, medical marijuana will be legalized in all 50 states. Right now, 29 states and the District of Columbia have already legalized cannabis in some form.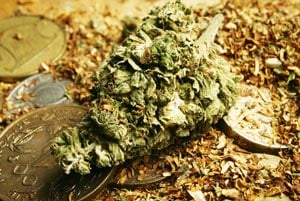 And when medical marijuana is completely legal, recreational marijuana legalization won't be far behind.
In 2016 alone, California, Maine, Massachusetts, and Nevada voted to legalize recreational cannabis.
But because cannabis is still illegal under federal law, these penny pot stocks aren't recommendations. Rather, these pot stocks are simply on our radar as medical marijuana becomes legalized throughout the United States. Here are the marijuana penny stocks to watch right now...
Marijuana Penny Stocks to Watch, No. 3: Future Farm Technologies
The first marijuana penny stock on our watch list is Future Farm Technologies Inc. (OTCMKTS: FFRMF).
Throughout North America, FFRMF develops lighting fixtures and products for residential and commercial applications. And as more states legalize marijuana, there will be an increased demand for these fixtures.
We're watching Future Farm Technologies this week because it just launched an update to its e-commerce website on June 1, 2017. According to the company's June 1 press release, FFRMF updated LEDCanada.com to "better reflect its product line and respond to growing consumer demand for LED grow lights."
The website is now optimized for mobile devices and search engines to help potential customers find LEDCanada.com online and buy their products.
BREAKING: New Legislation Could Turn Tiny Pot Stocks into Millions. Click Here...
Future Farm will also update the website with blog articles, company announcements, and client success stories, which will keep the site current and help spread their message. An improved website that's easier to find and order products from could increase sales, especially as states continue to legalize marijuana.
The FFRMF stock price has dropped 24.15% so far in 2017, but it's still on our watch list as the new website could help increase revenue.
FFRMF stock has traded between $0.05 and $0.75 per share over the last 52 weeks.
And the next two companies on our watch list use a unique compound from cannabis in their products that could generate massive sales...
[mmpazkzone name="in-story" network="9794" site="307044" id="137008" type="4"]
Marijuana Penny Stocks to Watch, No. 2: Sipp Industries
The second marijuana stock on our watch list is Sipp Industries Inc. (OTCMKTS: SIPC). Sipp is based out of Costa Mesa, Calif., and it distributes commercial and consumer products. We are watching SIPC because the company is working on a cannabidiol (CBD)-infused beer formula. CBD is an active ingredient in cannabis that reportedly relieves anxiety and helps with relaxation, but it doesn't produce the effects that make users feel "high."
Sipp is creating a CBD beer with Sleeping Giant Brewing Co. and expects the beer to be released in Q2 2017.
"Working with proprietary water-soluble hemp powder, it was determined that the Brown Ale style of craft beer blends well with hemp powder. This infusion provides a smooth, refreshing taste while enhancing the beer with the numerous healthy attributes that hemp is so highly recognized for," Sipp said in a Feb. 22 press release.
The Sipp's other offering, Major Hemp Brown Ale, is already being sold. Because it does not contain THC, Major Hemp Brown Ale is legal in all 50 states. It's available in five locations in Colorado, according to Sipp's website.
Video
Which States Will Legalize Marijuana Next?
Hemp beer may seem like a novelty now, but it could become a unique and niche product in a market with massive sales.
The National Beer Wholesalers Association reported the U.S. beer industry sells more than $100 billion in beer and malt-based beverages to U.S. consumers each year.
SIPC stock has traded between $0.00 and $0.06 in the last 52 weeks, and the SIPC stock price has climbed 150% so far in 2017.
Marijuana Penny Stocks to Watch, No. 1: Ubiquitech Software
The final marijuana penny stock to watch now is Ubiquitech Software Corp. (OTCMKTS: UBQU).
Through its subsidiary, HempLife Today, Ubiquitech sells CBD products like tinctures, concentrates, powders, vape oil, and capsules.
And according to MarijuanaStocks.com, Ubiquitech believes notable athletes and celebrities endorsing CBD over the last year will help increase awareness of CBD as a legal, organic product.
You see, one of the challenges for Ubiquitech is some people believe anything related to the marijuana industry is illegal. That's because the Controlled Substances Act of 1970 classified all forms of cannabis as a Schedule I drug.
But CBD hemp oil is made from plants with only trace amounts of THC (the psychoactive chemical in marijuana). That means HempLife Today does not sell products made with marijuana, and its products are legal in all 50 states.
Former Denver Broncos quarterback Jake Plummer, UFC fighter Nate Diaz, and movie star Whoopi Goldberg have all endorsed CBD products.
As athletes and celebrities bring increased awareness to CBD products, this should be a boon for Ubiquitech's sales since they specialize in CBD products.
UBQU stock has traded between $0.01 and $0.04 per share over the last 52 weeks, and the UBQU stock price has climbed 36.88% so far in 2017.
A Pot "Bombshell" Just Hit Canada: For our neighbors to the north, it's shocking news. But it could be the best news of all time for marijuana stock investors. In fact, this single "bombshell" event could unleash a new pot stock boom that will blow the doors off anything we've seen up to this point. And by putting a couple of hundred bucks into a handful of tiny Canadian weed companies, you could pocket life-changing gains - turning a few hundred bucks into a fortune overnight. Watch this now to get all the details...
Follow Money Morning on Twitter @moneymorning, Facebook, and LinkedIn.