For marijuana stocks, there are more ways to invest in the $6.7 billion industry than just buying shares in companies that grow and sell marijuana.
That's why we're bringing Money Morning readers the marijuana stock profile of Blue Line Protection Group Inc. (OTCMKTS: BLPG) today.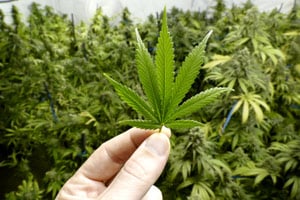 Founded in 2006, Blue Line provides protection, logistics, and compliance services to businesses in the legal U.S. cannabis industry.
One of its most important protection services is the transportation and storage of cash.
You see, marijuana businesses in the United States conduct all of their business in cash because cannabis is still illegal under federal law. Marijuana dispensaries can't open bank accounts and process credit card transactions.
Unfortunately, operating as cash-only increases the odds that marijuana dispensaries will be robbed.
According to business development firm SIVA Enterprises, the odds of a cannabis dispensary getting burglarized in 2015 were 50%. In comparison, banks only had a 34% chance of being burglarized in 2009, while convenience and liquor stores only had a 20% chance.
The Biggest Pot IPO of the Year: A highly anticipated marijuana company IPO will happen any day now, and analysts are projecting a massive 254% gain right off the bat for private investors. But you must hurry. Read more.
So securely transporting and storing cash is a service every cannabis dispensary needs.
Despite the demand, BLPG is a speculative investment right now. It's a penny stock that has traded between $0.02 and $0.09 in the last 52 weeks. It also trades on over-the-counter markets, which aren't regulated like major indexes.
However, Money Morning Director of Technology & Venture Capital Research Michael A. Robinson has a new profit opportunity in the $6.7 billion industry to share with our readers.
In fact, this single "bombshell" event could unleash a new pot stock boom that will blow the doors off anything we've seen up to this point...
How to Stake a Claim in Marijuana Stocks Before Prices Skyrocket