The list below shows the top solar penny stocks of June so far, ranked by month-to-date returns...
| | | |
| --- | --- | --- |
| Solar Penny Stock | Share Price | June 2017 Gain (as of 6/8) |
| BioSolar Inc. (OTCMKTS: BSRC) | $0.06 | +57.9% |
| NanoFlex Power Corp. (OTCMKTS: OPVS) | $0.60 | +50% |
| 3Power Energy Group Inc. (OTCMKTS: PSPW) | $0.09 | +12.5% |
| SES Solar Inc. (OTCMKTS: SESI) | $0.01 | +6% |
| Natcore Technology Inc. (OTCMKTS: NTCXF) | $0.16 | +2.4% |
| HyperSolar Inc. (OTCMKTS: HYSR) | $0.01 | +2% |
The best solar penny stock performer so far is BioSolar Inc., which is up 57.9% from $0.038 at the May 31 close to $0.06 today. Shares of BSRC surged 17.6% yesterday (June 7) alone after the company announced it would be developing lithium-ion battery solutions with British energy firm Top Battery Co. Ltd.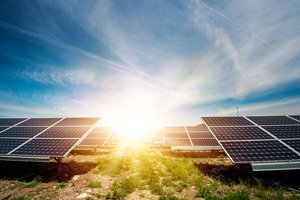 Despite U.S. President Donald Trump pulling the United States out of the Paris Climate Accord on June 1, solar energy stocks are starting to rebound. After falling 1% from June 1 to June 7, the MAC Global Solar Energy Index is up 1.9% today (Thursday, June 8). Smaller micro-cap companies are seeing the same momentum, with the above-listed 3Power Energy Group up 25% just today.
PSPW's huge 25% return in just one day shows how profitable penny stocks can be. Since they can cost as low as $0.01, they can offer explosive returns in an extremely short amount of time.
But we do not recommend investing in any of the top solar penny stocks listed above. These companies have already seen big returns, meaning they might not offer the same returns to investors who buy in now at the high price. Not to mention all of these firms trade on over-the-counter (OTC) exchanges, which means they're unregulated by the Securities and Exchange Commission (SEC) and could be fraudulent.
Here at Money Morning, we advise buying shares of solar companies that trade on regulated exchanges - like the NYSE and Nasdaq - and also boast strong financial health. This can be gleaned from researching a company's SEC filings to see if its profits are growing.
BREAKING: New Legislation Could Turn Tiny Pot Stocks into Millions. Click Here...
Today, Money Morning Global Energy Strategist Dr. Kent Moors has done the research for you. He's just found one of the best solar energy stocks to invest in this year. This firm is one of the world's largest solar suppliers and boasts access to the fastest-growing solar energy consumer in the world.
It's not a penny stock, but it could bring gains of nearly 50% in the next year. And it's a much safer investment than any solar penny stock you might find...
The Best Solar Energy Stock to Buy for a 48.9% Return in 12 Months