The Federal Reserve is almost certain to raise interest rates next week during its June FOMC meeting, and investors are wondering if a stock market crash could follow. While it's impossible to exactly predict when the next stock market crash will occur, it's always prudent to have a plan to protect your portfolio.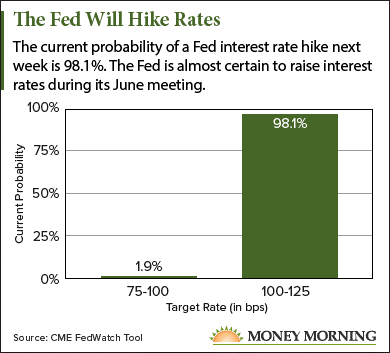 In just a minute, we'll show you exactly how to protect your money from a stock market crash. Before we get to that, here's why investors are worried ahead of the June FOMC meeting.
According to the CME FedWatch Tool, there's a 98.1% probability of a rate hike at the FOMC meeting next week (Wednesday, June 14).
Past rate hikes have been associated with major market corrections. Wall Street traders don't like the uncertainty interest rate changes bring. The Dow fell by nearly 7% between when the Fed hiked rates on Dec. 16, 2015, and Jan. 15, 2016.
There's an even bigger reason why investors are concerned an interest rate hike could lead to a stock market crash in 2017, and while a crash might not be very likely right now, it's still important to prepare...
Why Higher Interest Rates Are Causing Stock Market Crash Concerns
One of the primary drivers of the current bull market that started in March 2009 - the longest bull market ever - was low interest rates.
The Fed slashed interest rates from over 5% in 2006 to 0.25% in 2008 to combat the effects of the financial crisis of 2008. The idea was to make borrowing money easier, so that businesses would be willing to borrow money to stay afloat or expand. This would help grow the economy out of the Great Recession.
But what happened instead was businesses used the cheap money to repurchase shares of their own stock and boost share prices. Between 2010 and 2016, publicly traded companies borrowed $1.9 trillion while they repurchased over $2 trillion worth of their own stock.
Nearly $2 trillion going into stocks is one reason why the Dow rose 91% between January 2010 and December 2016, while corporate profits only rose 20% by comparison.
But average investors have taken advantage of low interest rates to buy stocks, too. The Wall Street Journal reported just last week (June 1) that margin debt - loans customers took out from their brokerage accounts - hit their all-time high of $549.2 billion in April. Margin debt is typically used to buy more stocks, according to the same WSJ report.
Urgent: Feds use obscure loophole to threaten retirees. If you have a 401(k), IRA, or any type of retirement account, this could cause you to miss out on $68,870 or more. Click Here...
In short, cheap borrowing costs, a result of low interest rates, have helped boost stock prices. Stock markets are at or near record highs, and they've raced to these all-time highs at record pace.
The Dow closed at its all-time high of 21,195 just last week (Friday, June 2). Since Election Day, the Dow is up 16% from 18,259 and jumped between the 20,000 and 21,000 levels in its fastest 1,000-point run ever.
Since low interest rates have helped boost stock prices to these heights, another interest rate hike could lead to a market crash in 2017. Again, it's impossible to time or predict a stock market crash, but the combination of soaring highs and a major event that injects uncertainty into the economy could start a major sell-off. Wall Street traders may sell, assuming that low interest rates won't be able to help stock prices anymore, and that could start a domino effect as other traders try to get out too.
But even if it leads to another market correction, the combination of high margin debt and soaring stock prices could cause investors to panic and flee stocks. Because loans used to buy stocks can't be repaid if stock prices fall too far, margin traders are vulnerable to shifts in stock prices. That makes a 2017 stock market crash a possibility.
But that doesn't mean investors should panic; it just means they should remain vigilant. Here's how to protect your money from a stock market crash...
Our 2017 Stock Market Crash Protection Guide