(Kitco News) –  World stock markets were mostly firmer overnight. U.S. stock indexes are also pointed toward modestly higher openings when the New York day session begins.
Gold prices are weaker in pre-U.S.-session trading Thursday, on some profit taking from recent gains.
Important and possibly markets-moving events are on tap Thursday. There are general elections in the U.K., a European Central Bank meeting, and former FBI director James Comey testifies to the U.S. Congress. These events could make for an active and potentially volatile day in many markets, if there are surprises. The ruling party in the U.K. is expected to win and the ECB is not expected to make any monetary policy changes. As always, ECB president Draghi's press conference will be scrutinized for clues on futures ECB policy moves. The former FBI director Comey did release a prepared text for his statement to Congress today, and it contained nothing seriously damning to President Trump. Still, Comey's question-and-answer session could reveal something that moves the markets.
In overnight news, Euro zone revised first-quarter gross domestic product was reported at up 0.6% from the fourth quarter of last year and up 1.9%, year-on-year. These revised numbers are up slightly from the initial estimates.
The key outside markets on Thursday morning see the U.S. dollar index firmer on a corrective and short covering rebound after hitting a six-month low Wednesday. The greenback bears are still in firm near-term technical control as dollar index prices are in a three-month-old downtrend.
The other "outside market" on Thursday morning sees Nymex crude oil futures prices modestly higher after Wednesday's steep sell off that produced fresh near-term technical damage. A bearish weekly U.S. liquid energy stocks report dropped the oil market Wednesday. The oil market bears have the firm overall near-term technical advantage as prices are well below $50.00 a barrel.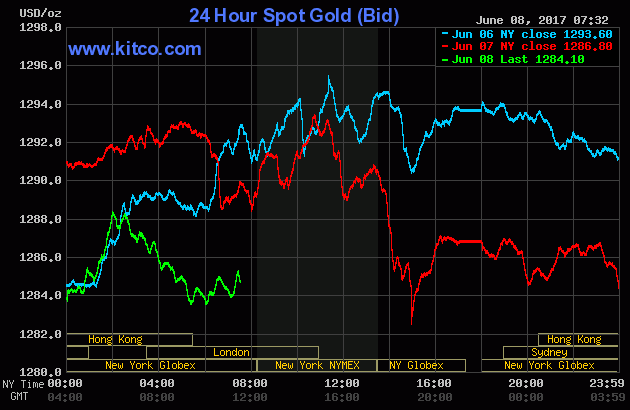 U.S. economic data due for release Thursday includes the weekly jobless claims report and the IDB/TIPP economic optimism index.
By Jim Wyckoff, contributing to Kitco News; jwyckoff@kitco.com