(Kitco News) – The feature in the marketplace late this week is the stunning setback for the UK ruling Conservative party and Prime Minister Theresa May. Her "snap election" loss of party seats in government has created a "hung Parliament," which puts May's fast-track Brexit approach in serious jeopardy and weakens May, herself.
The British pound dropped sharply on the election news and the U.S. Dollar Index rallied. However, European stock markets were higher on the news.
Gold prices did not rally on the surprise UK election results, but instead were pressured by the late-week rally in the U.S. dollar.
Of the three major focuses the markets had this week (the other two being the European Central Bank meeting and former FBI director Comey's testimony to the U.S. Congress), the UK elections were the only "miss" from market expectations.
Focus is now turning to next week's FOMC meeting on Tuesday and Wednesday, at which time the Federal Reserve is expected to slightly raise U.S. interest rates.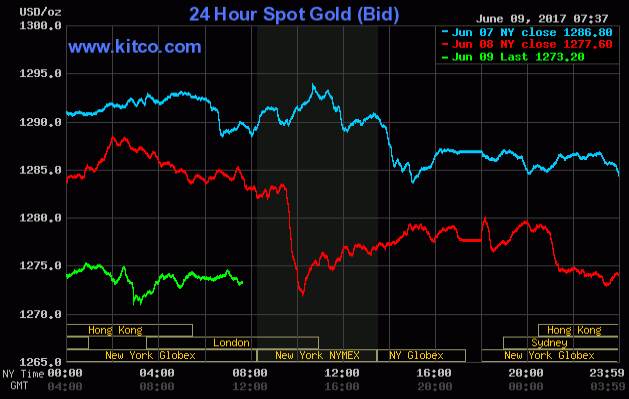 The other "outside market" on Friday morning sees Nymex crude oil futures prices slightly higher after Wednesday's steep sell-off that produced fresh near-term technical damage. The oil market bears have the firm overall near-term technical advantage as prices are well below $50.00 a barrel.
U.S. economic data due for release Friday is light and includes the monthly wholesale trade report.
By Jim Wyckoff, contributing to Kitco News; jwyckoff@kitco.com
Follow Jim Wyckoff @jimwyckoff for breaking news.