The big silver news story today (Friday, June 9) is how prices are on track to settle at their lowest level in nearly two weeks. Silver prices are down 1.1% today and trading at $17.22 - the lowest since closing at $17.19 on May 25. That puts the metal on track for a weekly loss of 1.7%.
Now, I know what you're thinking: How does the price of silver falling today indicate a rally is coming? Well, we see it as just a short-term pullback that will give way to a rally later in 2017.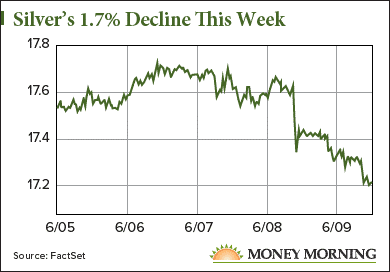 You see, today's brief decline comes despite three global events that would normally boost safe-haven investments like silver. These include former FBI Director James Comey's incendiary testimony and the hung UK parliamentary elections.
To recap, Comey told Senate members yesterday that he believed he was fired because of the FBI's investigation into Russia's alleged election interference. And late last night, the UK parliamentary elections ended with neither the Labour Party nor the Conservative Party (which Prime Minister Theresa May belongs to) getting the majority. The uncertainty surrounding the inconclusive vote could have a big delay on Brexit negotiations this year.
And the third event, which will happen in the United States next week, will have an even bigger influence on the price of silver in 2017. In fact, we think it could help lift prices to Money Morning Resource Specialist Peter Krauth's $22 target by the end of the year. That would be a 27.8% gain from today's $17.22 price.
Here's what we'll be watching next week...
This Event Will Dominate Silver News Headlines Next Week
The Federal Open Market Committee (FOMC) meeting on June 13-14 could provide a boost to silver prices this year.
Right now the odds of an interest rate hike after the FOMC meeting on Wednesday are extremely high. According to the CME Group's FedWatch Tool, there's a 99.6% chance the Federal Reserve raises rates to the 1%-1.25% range. In other words, a rate hike next week is a near certainty, especially with the inflation rate falling for three straight months to 2.2% in April and unemployment hitting a 16-year low last month.
Yes, rate hikes are often thought of as bearish for the silver price. Higher interest rates usually increase the value of the U.S. dollar, which can be a drag on dollar-priced metals like silver and gold. A more valuable dollar means people using other currencies can't afford to buy silver.
This could rattle silver investors since the Fed is clearly entering a long-term rate hike campaign. After all, there have been three increases in the benchmark federal funds rate since December 2015, with two of those happening this year alone.
But if you look over the long term, interest rates and silver prices typically rise together. For example, silver and interest rates both rallied during the 1970s. The metal skyrocketed 1,650%, from just under $2 per ounce in January 1970 to $35 by January 1980. That happened while interest rates steadied above 5% for most of the decade - roughly five times the current 0.75%-1% range. Interest rates even reached as high as 15% in 1979.
Trending: An incredibly rare gold anomaly is shaping up in the markets as we speak -- one that has occurred ONLY twice in the past 20 years. And it's about to happen again. Details here...
And we may be repeating history now that the Fed is set on continuously raising interest rates. There have been three rate hikes since Dec. 16, 2015, when we saw the first increase in nearly a decade. Since that date, silver prices have climbed 20.8%. That means more rate hikes could lead to long-term gains for silver.
All of this supports Peter's prediction for $22 silver by the end of 2017. If prices reach that level, we could be looking at a strong 27.8% return in less than six months.
But one of our recommendations could hand you an even bigger return. It's a silver stock that analysts say could gain as much as 36.2% over the next 12 months, making it a great way to invest in silver this year.
Here's our recommendation...
Consider This Silver Stock for a Potential 36.2% Profit by June 2018