You'd think that being labeled as the "Amazon of China" would be a compliment to any company operating in that country. After all, Amazon.com Inc. (Nasdaq: AMZN) is one of the greatest success stories of our time.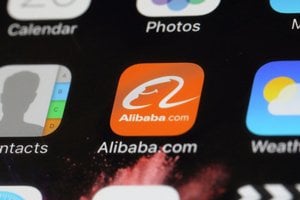 But for Alibaba Group Holding Ltd. (NYSE: BABA) and Alibaba stock, the comparison really misses the mark. While it is true that Alibaba is China's largest retailer, and according to Forbes is the sixth-largest retailer in the world, the company is so much more.
Everyone seems to be underestimating the company. And that is why Alibaba stock presents such a great opportunity for investors who see the company for what it really is. You see, Alibaba is perfectly positioned to profit from the massive changes now happening in China.
Money Morning Chief Investment Strategist Keith Fitz-Gerald has been recommending this stock since its IPO in 2014. The stock was up about 30% since then, and it leaped by more than 15% on June 8 after the company released an upbeat revenue outlook during its Analyst Day presentation. The audience literally gasped "wow" when the CFO spoke. And that tacked on about $40 billion in market capitalization in just one day.
Why? Because the company dominates China's e-commerce industry, and that's a big deal since China is the world's largest e-commerce market. Sales there could reach $2.4 trillion by 2020, according to eMarketer.
But that's only part of the story for the soaring Alibaba stock price.
China's new trillion-dollar "One Belt, One Road" initiative could end up being a massive catalyst for Alibaba stock for years to come…
How the Modern-Day Silk Road Could Drive Alibaba Stock Higher
As if owning the e-commerce space, providing a third-party platform for other retailers, offering cloud-computing services, data management, and the Alipay online and mobile payment solution were not enough, Alibaba is now the best way to play China's massive infrastructure and economic initiative.
Called "One Belt, One Road" (OBOR), the Chinese launched a massive transcontinental infrastructure initiative in 2013 meant to expand trade across 68 countries throughout Asia, Eastern Europe, and Africa. The plan includes over $1 trillion in infrastructure investment across the region.
Must See: This Great Depression-Era "Secret" Helped Transform Two Teachers into Millionaires. Read more…
The name is meant evoke the Silk Road trade routes dating back to the Han Dynasty of 2,000 years ago. Linking the project to the historical trade route is likely a ploy meant to make it seem a natural development for China. But it is also a way to open up and develop infrastructure-poor regions – and markets – along the route.
"The goal is to redefine the global political and diplomatic 'orbit' by drawing entire countries into China's way of doing things," Fitz-Gerald said.