Dr. Jeffrey Lewis, a top global nuclear proliferation expert, said yesterday (June 11) that North Korea is just one step away from successfully launching ICBMs at the U.S. mainland.
A self-ascribed "Arms Control Wonk," Lewis is the director of the Center for Nonproliferation Studies (CNS) and specializes in East Asian munitions advancements. He has also served as the executive director of the Managing the Atom Project at the Belfer Center for Science and International Affairs.
He told the UK's Express media outlet that he believes there's just one crucial element holding Pyongyang back right now…
North Korea Must Survive the Heat
Lewis said the Hermit Kingdom's sole holdup at this point is constructing a warhead capable of withstanding extreme heat during reentry into the atmosphere.
"The major question now is not whether the warhead is small enough to mount on an ICBM but whether it is rugged enough to survive the shock, vibration, and extreme temperatures that a nuclear warhead would experience on an intercontinental trajectory," Lewis said.
You see, if Pyongyang were to launch an ICBM (intercontinental ballistic missile) at the United States, it would not only need to travel the roughly 4,800 miles to hit our mainland, it would also have to successfully arc out of and back into the atmosphere without breaking apart.
Don't Miss: This small $6 U.S. defense firm with a new top-secret technology could help the Pentagon stop a sneak attack dead in its tracks. Read more…
That latter reentry process is a steamy one – hot enough to destroy an ICBM's nuclear warhead payload.
But as you read this, North Korea grows closer to fixing that very problem…
One Test Down, Countless More to Go?
Lewis also explained to Express yesterday that Pyongyang has already successfully launched a missile with what's called a "reentry vehicle" – a contraption that encases a missile-attached nuclear payload to keep it from burning up.
Video
What Can We Expect from North Korea in 2017?
"The warhead fitted to the Hwasong-12 experienced heat loads similar to those of an ICBM (although for a shorter period of time) and survived," Lewis warned.
Hwasongs are not ICBMs (luckily), but the success of a reentry vehicle attached to this type of missile should still be of great concern to the U.S. government…
And that's not only Lewis' opinion, but that of Money Morning's own North Korea arms expert, Bill Patalon, as well…
The Pentagon Is Strangely Silent About North Korea's Advances
In an April 28 piece on three threats currently posed by Pyongyang, Patalon likened the Pentagon's lack of candor about North Korea's growing capabilities to Uncle Sam's dismissal of Russia during the Cold War.
A potentially grave mistake.
"The Pentagon hasn't been publicly forthright about some of the technical advances North Korea has made with its missile program," Patalon wrote. "That's the same mistake it made during the Cold War."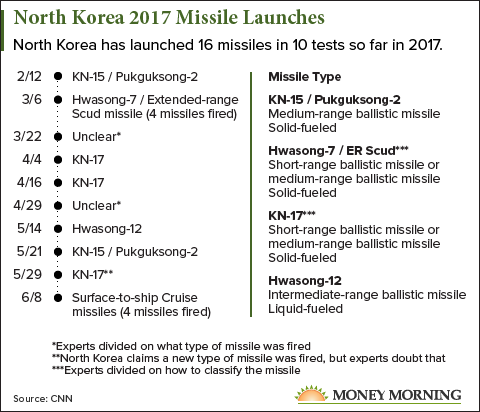 For example, Uncle Sam recently dismissed North Korea's solid-rocket fuel upgrade.
"Melissa Hanham, from the Center for Nonproliferation Studies, analyzed photos of rocket engine tests and deduced from the color of the exhaust flames that this three-stage weapon is being designed to hit the U.S. East Coast," Patalon explained. "And by 'measuring' photos of the missile itself and analyzing where it's being carried, we know the KN-08 Rodong-C missile is designed to hold enough fuel for a range of 7,200 miles – enough, if perfected, to make good on North Korea's Easter 2016 threat to hit Washington."
The Pentagon has been likewise mum about these specific rocket-fuel upgrades – giving Patalon all the more reason to express his own concern as often as he possibly can…
The North Korean Nuclear Crisis Poses Immediate Risks to the U.S.