Editor's Note: Now that Spotify stock has officially begun trading, we've given readers our full outlook on the company. Plus, you'll see our recommendation on whether you should buy Spotify stock…
Popular music streaming service Spotify is set to hit the NYSE sometime in 2017 or early in 2018.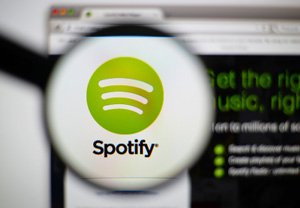 That's why investors have been asking us, "What is the Spotify stock ticker?"
Right now, there isn't one. We won't know what the Spotify stock symbol is until the company files all of its paperwork.
However, we do know that Spotify could use an uncommon strategy to list its stock…
The Spotify IPO Could Be a Direct Listing
To list the stock and avoid underwriter fees from banks, Spotify could sell shares through a direct listing.
The direct listing would also "level the playing field" for retail investors.
You see, underwriters set the offering price for an IPO. This IPO offering price is normally much cheaper than the price small investors pay when the stock trades to the public, but the catch is that only hedge funds, big banks, large institutions, and investors with a large net worth are able to buy in at the offering price.
When retail investors are finally able to buy shares in a public offering, the price has often risen and is much more expensive than what insiders paid.
For example, underwriters set the IPO offering price for Snap Inc. (NYSE: SNAP) at $17 per share. When retail investors could purchase shares of SNAP on March 2, the SNAP stock price opened at $24 per share.
That's a premium of 41.17% from what insiders paid.
However, through a direct listing, all investors will pay the same price for Spotify stock when it first starts trading. That provides small investors with an advantage, but that doesn't make Spotify stock a good buy.
And we have one big reason why Money Morning readers should avoid the Spotify IPO…
One Reason to Completely Avoid Spotify Stock
Spotify isn't profitable, and the company hasn't shown any plans to become profitable, which is why we recommend not buying Spotify stock.
The company hasn't provided revenue totals for 2016, but we do know that Spotify has lost money every year between 2009 and 2015.
And in 2015, net losses hit an all-time high of $173 million.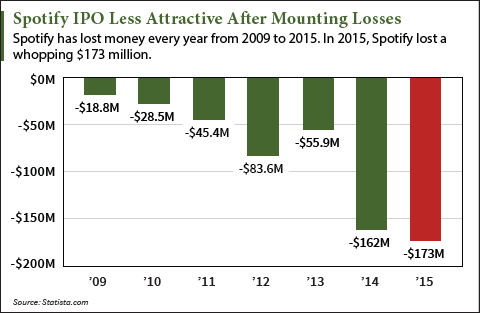 Now, with 50 million subscribers, the most in the music streaming business, it may seem counterintuitive that Spotify is losing money.
But the reason Spotify is burning through cash is its hefty royalty rate. As of August 2016, the music streaming service was paying recording artists and music companies a rate of 55%. In comparison, Apple Inc. (Nasdaq: AAPL) reportedly pays a 60% royalty rate.
But the difference is Apple can afford to pay those high rates because it has other revenue sources.
And in 2016, Music Business Worldwide indicated that Spotify may never be profitable unless royalty rates fall to 49%.
But we did uncover a company that is making money off the streaming music service.
BREAKING: New Legislation Could Turn Tiny Pot Stocks into Millions. Click Here…
This investment opportunity has netted gains of 26% since I first brought it to the attention of Money Morning readers on March 28.
If you missed it, that's okay. Over the next 12 months, this investment could climb another 102%.
This isn't on Wall Street's radar, which is why I had to make sure you knew about it today…
The Best Way to Profit Before the Spotify Public Offering