The big silver price news today (Wednesday, June 14) is the metal's recovery from its five-session losing streak.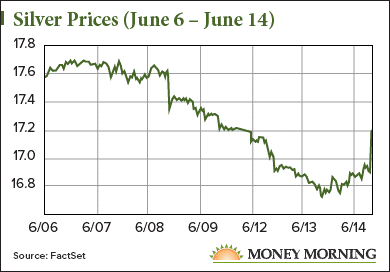 Silver prices are up 2.9% and trading at $17.25 per ounce this morning. Those gains follow five straight sessions of losses from June 6 to June 13, totaling a decline of 5.3%.
Although this volatility had investors on edge, it's perfectly normal ahead of looming interest rate hikes. Silver dropped 2.2% during the seven days leading up to the last rate hike on March 15. It also declined 6.7% in the week before the Dec. 14, 2016, rate hike.
Today's rebound supports Money Morning Resource Specialist Peter Krauth's silver price prediction for 2017. He sees the metal rising 27.5% from the current price to $22 by the end of the year.
And today's likely interest rate hike at 2 p.m. will be a big factor in that rally...
Why the Fed Rate Hike Is Bullish Silver Price News
With the June FOMC meeting concluding today, economists across the board expect the Federal Reserve to raise interest rates by 0.25% to the 1%-1.25% range. According to CME Group's FedWatch Tool, there's a 93.5% probability of the federal funds rate being raised to the 1%-1.25% range.
On a fundamental level, higher interest rates are often seen as bad news for silver prices. The logic is that higher rates result in a more valuable U.S. dollar. A more valuable dollar makes silver more expensive to people using other currencies, thus lowering demand for the metal and hurting its price.
But the Fed's rate hike campaigns - like the current one that started on Dec. 16, 2015 - have historically been good for silver. All you have to do is look at the 1970s for proof...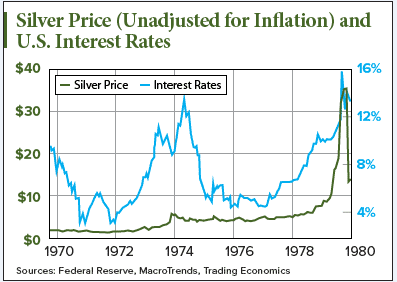 The price of silver soared from under $2 in 1970 to $35 in 1980. That insane 1,650% return happened while the federal funds rate went from 8% to an all-time high above 15% over the same period.
This trend of silver prices rising alongside rising interest rates was most pronounced between 1978 and 1980 when silver prices soared roughly 607% while interest rates went from about 5% to 15%. Their record high above 15% in 1979 was more than 12 times larger than the high end of the current 1%-1.25% range.
And it appears this trend has reappeared since the Fed raised rates for the first time in nearly 10 years on Dec. 16, 2015. Since that date, there have been three interest rate hikes. Meanwhile, the silver price has rallied 21.1% over the same period.
With the Fed likely to maintain a hawkish stance through 2017 and 2018, it seems that silver could be in for a big long-term rally.
Breaking: An incredibly rare gold anomaly is shaping up in the markets as we speak -- one that has occurred ONLY twice in the past 20 years. And it's about to happen again. Details here...
This supports Peter's 2017 forecast for a $22 silver price by the end of this year. If the metal reaches that target, we would see a generous 27.5% profit in less than six months.
But one of our silver stock recommendations could potentially give you a much bigger profit. In fact, analysts predict shares of this company could rally as much as 37.9% by June 2018, making it a great way to profit from rising silver prices in 2017.
Here's our silver stock pick to profit from higher silver prices in 2017...
This Could Be One of the Best Silver Stocks to Buy in 2017