Investors hoping for an Uber IPO in 2017 will have to keep waiting, as numerous Uber scandals have put any chance of a public offering in 2017 on hold.
The most recent troubles began in January. Uber CEO Travis Kalanick had joined President Donald Trump's economic advisory board in December 2016, but he received backlash when the Trump administration imposed a travel ban on seven countries on Jan. 27.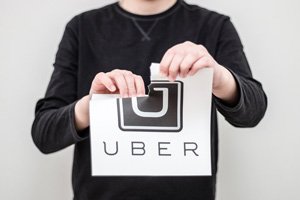 To protest the ban, the New York Taxi Workers Alliance (NYTWA) called for a strike between 6:00 p.m. and 7:00 p.m. on Jan. 28, refusing to pick up anyone from JFK airport.
After the strike was announced, Uber was accused of taking advantage of the situation by providing rides from the airport.
In response, a #DeleteUber campaign started trending on Twitter Inc. (NYSE: TWTR) on Jan. 28. According to The New York Times, over 200,000 customers deleted their accounts in protest.
And that's just the start of how bad a year it has been for Uber...
After All the Uber Scandals, Don't Expect an Uber IPO Anytime Soon
There are almost too many Uber scandals in 2017 to keep track of. But these are some of the biggest from a March 26 Business Insider report.
Feb. 19: Susan Fowler, a former engineer for the company, alleged in a blog post that she was sexually harassed.
Feb. 23: Alphabet Inc. (Nasdaq: GOOGL) sues Uber for intellectual property theft.
Feb. 27: Kalanick asks Uber Senior Vice President of Engineering Amit Singhal to step down amid emerging sexual harassment allegations from when he formerly worked at Google.
March 3: Uber is accused of secretively deceiving authorities in areas it wasn't allowed to operate in with a tool called "Greyball" that circumvented law enforcement efforts to crack down on the ride-hailing app.
March 3: Ed Baker, Vice President of Product & Growth, resigns.
March 19: Jeff Jones, Uber's president, resigns.
March 25: Uber suspended its self-driving car program in Arizona after a vehicle was involved in a crash.
Now there's even more uncertainty over the future of the company as Kalanick is taking a leave of absence following the death of his mother at the end of May. In a June 13 letter to employees, Kalanick did not state when he would return.
According to CNBC, a committee will run the day-to-day operations during his absence.
Video
Uber's Ex-Communications Chief on Kalanick Taking Leave
This makes it unlikely Uber will have an IPO anytime soon. But even if the company were to go public this year, Money Morning does not recommend buying shares of Uber stock.
The company isn't profitable, and we don't know who will run the day-to-day operations upon Kalanick's return.
However, we have a backdoor way to profit from the IPO hype without even owning Uber stock. Best of all, you don't even have to wait for Uber to go public to make a profit.
Since we first mentioned this stock on May 18, it's climbed 10% in less than a month. In comparison, the Dow Jones Industrial Average is up just 3.52%.
This Could Make Big Oil Obsolete: One gallon of this new "crystal fuel" could get you from New York to L.A. and back... seven times! Read more...
And we expect even more market-beating gains - as much as 19% in the next 12 months, and that doesn't even factor in this stock's 2.79% dividend yield...
This Is a Much Better Profit Opportunity Than Buying Uber Stock