Defense stocks are one of the smartest buys of the Trump era, given his stated commitment to boosting defense spending by $54 billion.
As we've seen, drones and autonomous vehicles are two high-profit ways to play the growth energizing this $1.7 trillion sector…
But the big play – the really disruptive, transformative 21st-century technology – is military lasers.
"Ray guns."
It sounds like science fiction, but it's a fact. Laser weapons are here now, and perhaps as soon as next year they'll change the way the U.S. military fights conflicts all over the world.
You'll have reaped the financial rewards long before that, though…
An Infinite, Safe Supply of Ammunition
You can't fight without ammo, and that makes it a huge consideration to weigh when you're designing (and paying for) a fighter plane or a battleship, for example.
A turret for a 16-inch naval gun housing costs around $1.5 million – without the guns. Shells can weigh anywhere from 1 to 1.5 tons, and each one going to outfit the U.S. Navy's new, $4 billion Zumwalt-class destroyer costs $800,000.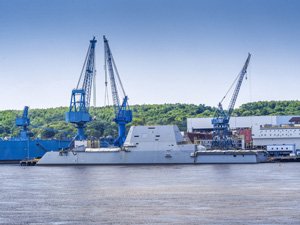 Ammo can be dangerous, too.
Shells need to be stored in huge, vulnerable magazines aboard ships. In battle, a lucky shot at a ship's magazine might cause a catastrophic explosion. Even in peacetime, lethal misfires and explosions have occurred, killing dozens of sailors.
The technology is, essentially, medieval. Of course there have been refinements over the centuries, but at the end of the day, a shell is a heavy piece of metal hurled downrange though a sturdy tube by exploding chemical propellants, just like it was in the 13th century.
Laser weapons could make all this ancient history.
You don't need to keep expensive, dangerous shells around anymore, and you don't have to build your planes and ships to accommodate them, either, so your weapons platform – manned or unmanned – is open to other useful equipment.
They're precise, too. Explosions are messy, and no matter how carefully explosive shells and missiles are aimed, innocent people can and do get hurt or killed. That's not a concern with a laser, which will hit its target and nothing else, every time.
The idea of laser weapons has, of course, been around for a long time, but the great challenge in weaponizing them – electrical power, and lots of it – has only recently been overcome.
One of my long-time favorite defense companies was the first to unveil a laser weapon in 2014. Kratos Defense & Security Solutions Inc. (Nasdaq: KTOS) strapped together six commercial welding lasers and built the first operational laser weapon for the U.S. Navy.
Kratos' Laser Weapons System (LaWS) was about 30 kilowatts (kw) and could down a drone and poke a hole in a ship at 1,000 meters.
It was an impressive proof of concept that attracted attention from some of the biggest players in defense.
Lockheed Martin Corp. (NYSE: LMT) did Kratos one better: It built a 60-kw laser that mounts on the back of truck and that can take out a drone at 500 meters.
These breakthroughs have ignited a kind of domestic "laser arms race," with contractors pouring into the laser niche.
The company I'm about to show you isn't the biggest or the flashiest, but it has exactly what it takes to grow into a dominant position in laser weaponry.
This Is the Best Laser Weapons Play on the Market
Join the conversation. Click here to jump to comments…
About the Author
Michael A. Robinson is one of the top financial analysts working today. His book "Overdrawn: The Bailout of American Savings" was a prescient look at the anatomy of the nation's S&L crisis, long before the word "bailout" became part of our daily lexicon. He's a Pulitzer Prize-nominated writer and reporter, lauded by the Columbia Journalism Review for his aggressive style. His 30-year track record as a leading tech analyst has garnered him rave reviews, too. Today he is the editor of the monthly tech investing newsletter Nova-X Report as well as Radical Technology Profits, where he covers truly radical technologies – ones that have the power to sweep across the globe and change the very fabric of our lives – and profit opportunities they give rise to. He also explores "what's next" in the tech investing world at Strategic Tech Investor.