(Kitco News) – Global markets traded near steady levels in quiet action overnight. U.S. stock indexes are pointed toward slightly higher openings when the New York day session begins.
Traders and investors are awaiting the results of the FOMC meeting that began Tuesday morning and ends Wednesday afternoon with a statement. The Federal Reserve is expected by most to slightly raise U.S. interest rates. The marketplace is also keen to see if the Fed acts to further reduce its big balance sheet of government securities. Fed Chair Janet Yellen will hold a press conference after the FOMC meeting concludes.
Gold prices are steady to slightly higher in pre-U.S. session trading. The gold market bulls still have the overall near-term technical advantage but have faded a bit recently and need to show fresh power soon.
In overnight news, the Euro zone's industrial output in April was reported up 0.5% from March and up 1.4%, year-on-year. The numbers were in line with market expectations.
The Bank of Japan and the Bank of England also hold monetary policy meetings late this week.
The key "outside markets" on Wednesday morning see Nymex crude oil futures prices lower, following a bearish International Energy Agency report Wednesday that estimated growing U.S. crude oil production and increased world supplies. The oil market bears have the firm overall near-term technical advantage as prices trade well below $50.00 a barrel. Meantime, the U.S. dollar index is slightly higher. The greenback bears also hold the firm near-term technical advantage.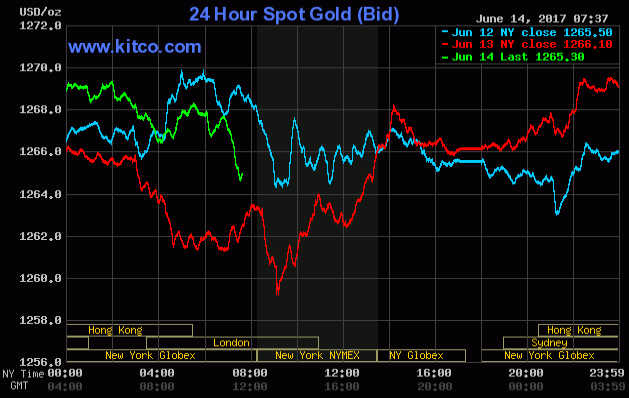 U.S. economic data due for release Wednesday includes the weekly MBA mortgage applications survey, the consumer price index, real earnings, retail sales, manufacturing and trade inventories, and the weekly DOE liquid energy stocks report.
By Jim Wyckoff, contributing to Kitco News; jwyckoff@kitco.com
Follow Jim Wyckoff @jimwyckoff for breaking news.