Federal Judge James Boasberg ruled in favor of the Standing Rock Sioux Tribe yesterday (June 14), handing the tribe its first legal victory in its battle against the Dakota Access pipeline.
Well, sort of...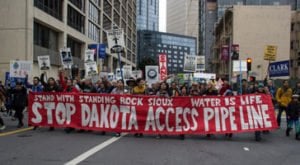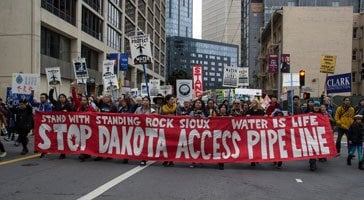 You see, Boasberg did not order Dakota Access to cease operations, which have been underway for close to two weeks.
However, the judge did order the U.S. Army Corps of Engineers to repeat the rigorous Environment Impact Statements (EIS) study, saying that the Corps failed to perform an adequate study the first time around.
In a 91-page decision, the judge cited the Corps' study of "the impacts of an oil spill on fishing rights, hunting rights, or environmental justice" as particularly deficient.
"Even though a spill is not certain to occur at Lake Oahe, the Corps still had to consider the impacts of such an event on the environment," the judge said.
Now, the Standing Rock Sioux Tribe faces a mixed result. There's no indication that the requirement to perform a new study will alter the outcome of the case. But the ruling may establish some vital precedents, particularly around environmental justice and treaty rights.
That said, the economic effects of this decision could be devastating...
The Dakota Access Pipeline Could Burn Oil Stocks
You see, the lines of pipe for the DAPL have already been purchased and installed.
"Should the administration ultimately stop this, it would set a horrific precedent."
In fact, there is oil flowing through the pipeline right now.
Should the study result in the case being overturned, Energy Transfer Partners LP (NYSE: ETP), which owns and operates the pipeline, would find itself in an absolute catastrophe.
Related: Our (Bold) 2017 Oil Price Forecast - and Today's Most Profitable Energy Play
The company has already spent roughly $3.8 billion on the 1,172-mile-long project, and that's not including the costs and time associated with getting the proper permits for construction. Even more, the pipeline carries an estimated 470,000 barrels a day, which is then distributed to producers and refineries - all of which depend on the oil and have financial interests at stake.
In addition to ETP, leading oil producers in the region, which include Whiting Petroleum Corp. (NYSE: WLL), Continental Resources Inc. (NYSE: CLR), EOG Resources (NYSE: EOG), Hess Corp. (NYSE: HES), and Marathon Oil Corp. (NYSE: MRO), would all be negatively affected.
In short, not only is the DAPL controversy bad news for companies that build and operate pipelines, but also for the oil producers, partners, and refineries.
What's more, the long-term implications of this controversy could alter the way oil companies operate in America forever...
The Dakota Access Pipeline Could Set a "Horrific" Precedent
Craig Stevens, a spokesman for the Midwest Alliance for Infrastructure Now (MAIN), an energy-focused coalition of business interests, warned of the DAPL's long-term implications back in September 2016.
"Should the administration ultimately stop this, it would set a horrific precedent," Stevens said in a statement. "No sane American company would dare expend years of effort and billions of dollars weaving through an onerous regulatory process receiving all necessary permits and agreements, only to be faced with additional regulatory impediments and be shut down."
In other words, if the courts rule in favor of the tribe and affect the DAPL operations, it's going to be much tougher for American oil companies to justify setting up shop or expanding in the States.
And that might force them to do business in more profitable regions - like Asia...
"Asia is quickly becoming the center of global oil demand, and it's crucial that investors know how to profit," said Money Morning Global Energy Strategist Dr. Kent Moors to readers on April 13.
Kent is an internationally recognized expert in oil and natural gas policy. In fact, he travels around the world to gather energy news in his role as a consultant for major companies and governments, like the United States and Russia. So when he's identified a trend in the industry, it's wise to pay attention.
Earlier this year, Kent gave his readers a way to profit from oil's shift to Asia. The stock has held steady since his recommendation, but Craig Stevens' "horrific precedent" could mean big profits are on the horizon. Read all about Kent's pick here...
Must See: One gallon of this new fuel could produce enough energy to power a car for 42,325 miles. It's being hailed by many experts as energy's "Holy Grail." Read more...
Follow Money Morning on Twitter @moneymorning, Facebook, and LinkedIn.
[mmpazkzone name="end-story-hostage" network="9794" site="307044" id="138536" type="4"]