The Saudi Aramco IPO news dominates headlines because of the company's massive valuation, but there are doubts about the company's actual size…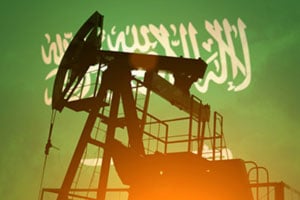 The Saudi Aramco IPO valuation is claimed to be a massive $2 trillion dollars. It's so big that the Saudi government's plan to sell just a 5% stake will still make it the largest IPO of all time – more than four times the size of current record-holder Alibaba Group Holding Ltd. (NYSE: BABA) and its $25 billion 2014 IPO.
But recent Aramco IPO news is calling into question the Aramco IPO value and whether it will even be able to list its shares on stock exchanges in New York or London. Here's everything you need to know about the Saudi Aramco IPO news and what investors can expect next…
The New Valuation Will Change Saudi Aramco IPO News
Saudi Aramco officials first announced their plans to explore an IPO in January 2016. The company boasted an initial valuation of a landmark $2 trillion.
The massive valuation stems from Aramco's unrivaled access to Saudi Arabia's oil. The Kingdom of Saudi Arabia currently owns Saudi Aramco, and the government only allows Aramco to drill oil and gas in Saudi Arabia. That means Aramco controls 20% of the world's oil reserves, roughly 267 billion barrels of oil.
Other Big Oil companies, like Exxon Mobil Corp. (NYSE: XOM), have to compete for resources by bidding for real estate against rivals. For example, a giant 20 billion barrels of oil was just discovered in the United States' Permian Basin region, but oil companies are competing to control territory there. Exxon Mobil just paid $6.6 billion for resources there earlier this year.
Saudi Aramco doesn't face this problem in competing for the Saudi oil supply.
Energy Breakthrough: One gallon of this new "crystal fuel" could get you from New York to L.A. and back… seven times! Read more…
That's why the $2 trillion Aramco valuation dwarfs even the world's biggest oil companies. The combined size of Exxon Mobil Corp., Royal Dutch Shell Plc. (NYSE ADR: RDS.A), BP Plc. (NYSE ADR: BP), and Chevron Corp. (NYSE: CVX) is roughly $888 billion. That's less than half of the reported $2 trillion Aramco IPO valuation.
But because Aramco's soaring valuation is tied to the price of oil, analysts have become skeptical of its enormous price tag.
Brent crude oil is currently trading at $47.20 a barrel, near its lowest point since the day before the Nov. 30 OPEC deal when it hit $46.11 a barrel. That's less than half the price Brent crude traded at in 2014, when it hit a high of $115 a barrel in June 2014. With Brent crude now struggling to rise above $50 a barrel, the oil Saudi Aramco controls is now less valuable.
That's why analysts have cut Aramco's valuation nearly in half.
In March, Bloomberg reported analysts were suggesting the Saudi Aramco IPO valuation is closer to $1 trillion. Rystad Energy updated its valuation to $1.4 trillion, assuming oil prices rise to $75 a barrel, which is a 60% gain from today's prices.
But even if the real Aramco valuation is half of the $2 trillion claim, it will still be the largest IPO ever. That means all Aramco news still grabs headlines, including news about which stock exchange it will use to list its shares…
Which Stock Exchange Will List Saudi Aramco Stock?
Saudi Arabia plans to list some shares of Aramco on the Saudi Arabian stock exchange, but to maximize the global appeal of Aramco and increase its value, they want to list the bulk of the shares on a major stock exchange in Europe, North America, or Asia.
And stock exchanges in New York and London are heavily competing to win Aramco shares.
The heads of the New York Stock Exchange (NYSE) and the London Stock Exchange (LSE) have taken trips to Saudi Arabia with their respective heads of state to woo Aramco into picking their exchange. In April, the LSE chief executive traveled with UK Prime Minister Theresa May on her state visit to Riyadh. In May, a delegation from NYSE accompanied U.S. President Donald Trump on his official visit to the kingdom.
Trending: Even the Best Big Oil Stocks Can't Beat These Small Companies
The Wall Street Journal reported on June 14 that stock exchanges are so hopeful to land Aramco because it will boost the prestige of their exchanges and could help them win the next big IPO. Selling Aramco stock could be a way for London to keep its global appeal even after Brexit cuts ties with the European Union.
The LSE is also considered the front-runner at this point too. The United States passed a law last year making it easier for American victims of the 9/11 terrorist attacks to sue Saudi Arabia, and listing Aramco shares in the United States could make them vulnerable to a lawsuit.
Plus, the LSE has offered Aramco a deal that could help it over its next biggest hurdle…
Saudi Aramco IPO Still Has One Major Obstacle Ahead