(Kitco News) – World stock markets were mostly higher overnight. However, eroding crude oil prices are limiting the upside for the global bourses. U.S. stock indexes are pointed toward firmer openings when the New York day session begins.
Gold prices are trading near steady just before the U.S. Comex futures market opens. The gold market bulls have faded recently and need to show some fresh power soon to prevent significant near-term technical damage from occurring on the charts.
The world geopolitical front has heated up just a bit this week. A U.S. citizen held captive in North Korea for over a year and just returned home has died. A U.S. warplane shot down a Syrian jet, which has prompted a stern rebuke from Russia. While potentially market-sensitive at some point soon, these events have so far had little impact on the world marketplace.
The key "outside markets" on Tuesday morning see Nymex crude oil futures prices lower and hitting a 14-month low overnight. The oil market bears have the solid overall near-term technical advantage as prices are trading below
$44.00 a barrel. There continue to be notions of a worldwide oil supply glut that will continue to depress prices for some time to come.
Meantime, the U.S. dollar index is near steady early today. The greenback bears still hold the overall near-term technical advantage as prices last week hit a seven-month low.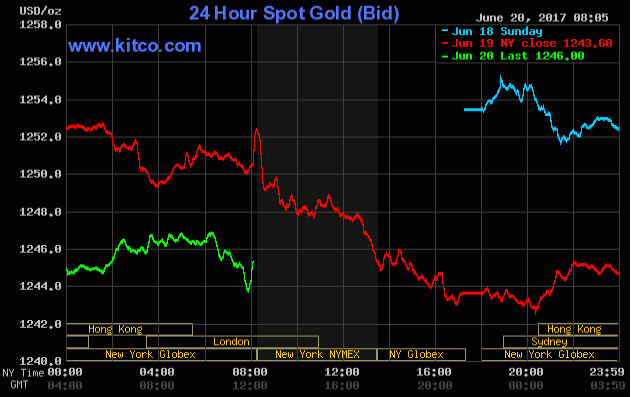 Several Federal Reserve officials speak this week and the marketplace will closely scrutinize their comments for any clues on the future direction of U.S. monetary policy. House Speaker Paul Ryan delivers a speech Tuesday afternoon on U.S. tax reform.
By Jim Wyckoff, contributing to Kitco News; jwyckoff@kitco.com
Follow Jim Wyckoff @jimwyckoff for breaking news.