On July 1, 2017, Nevada will legalize the use and sale of recreational marijuana, which could be a catalyst for long-term gains for three marijuana stocks.
We'll get to those three cannabis stocks in just a bit. But first, we wanted to make sure Money Morning readers know all the important details of Nevada's new marijuana laws. You see, these new laws could inject hundreds of millions of dollars into the Nevada marijuana industry...
What to Know About Nevada's New Marijuana Laws
Nevada isn't just legalizing pot, it's also changing three laws surrounding marijuana.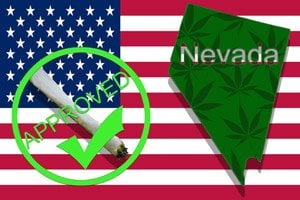 First, according to the Reno Gazette Journal, there will be a 15% tax on cultivation (for marijuana producers) for both medical and recreational marijuana starting July 1. Additionally, there will be a 10% retail tax on recreational marijuana only.
The cultivation taxes collected by the state will go towards schools, while the revenue from recreational marijuana sales taxes will be put in the state's rainy day fund.
From just this tax on recreational cannabis, Nevada is expected to generate more than $60 million in revenue over the next two years.
Second, new medical marijuana patients will also receive a break on the cost of medical marijuana cards. Currently, cards cost roughly $100 and expire after a year. Now, the cards will cost roughly $50 and be good for two years.
Reducing the cost of medicinal marijuana cards will make them more affordable for Nevadans.
The Best Pot Stocks: After months of research, we've found the most lucrative and fastest-growing legal pot stocks in America. And for a limited time, you can get all the details for free. Learn more...
Third, the other change in the Nevada cannabis laws deals with past convictions from when marijuana was still illegal.
Anyone who was previously convicted of possessing up to an ounce of marijuana can file for their judgement to be erased and all the related records to be sealed.
According to RGJ, Democrat Assemblyman William McCurdy, II, hopes the bill will help people with marijuana possession convictions find new opportunities for employment now that pot is legal in the state.
The other positive side effect from legalization will be an economic boom in Nevada. By 2020, data solutions provider New Frontier Data projects marijuana sales in Nevada will reach $630 million.
And you can profit from the potential $630 million revenue windfall coming to Nevada with these three marijuana stocks...
The Three Most Important Pot Stocks to Know About Before July 1