U.S. President Donald Trump's tweet about China - posted yesterday afternoon (June 20) just after 2:30 p.m. - immediately had media outlets buzzing.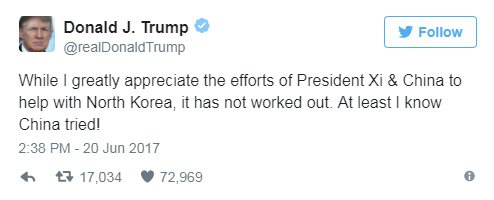 Some news sites suspected that it was actually a warning about how Trump is preparing for war with North Korea:
"Trump Tweet Hints North Korea Tension Will Heat Up Again" - Newsday
"Trump Just Sent a Mystifying, Disturbing Tweet About North Korea" - VOX
"High Noon in North Korea: Is Trump Ready for War?" - The Daily Beast
"Did Trump Just Declare War on a Nuclear Weapons State Over Twitter?" - New York Magazine
Other (arguably less dramatic) media outlets posited that Trump, via Twitter, was actually nudging China to pick up its efforts in countering North Korea's threats - as if to say, "Thanks for trying, China, but you failed. However, you still have an opportunity to redeem yourself by agreeing to more North Korea sanctions during today's talks."
The outlets in this latter camp quoted several experts, who explained their thoughts on Trump's mid-afternoon tweet.
"He is trying to create the conditions for [Secretary of State] Rex Tillerson to communicate a very tough message to the Chinese tomorrow, including the possibility of secondary sanctions," Evan Medeiros, a former Asia advisor to President Barack Obama, told The Financial Times today.
Another expert, John Delury, suggested to The New York Times that Trump will leverage China's "failure": "What Trump is saying is, 'I don't need you on North Korea now, and therefore maybe we should have it out on these other issues, like trade.'" Delury is an authority on China and the Koreas at Yonsei University in Seoul.
These suppositions that Trump's Twitter post yesterday had some kind of double meaning aren't at all unwarranted.
Trump - a former reality TV star/media mogul who knows how to craft a grabby headline - has dropped well-timed, loaded statements to the media like this before...
Trump's Tweet Yesterday Follows an Emerging Routine
For example, on April 2 - one week before he hosted Chinese President Xi Jinping in Florida - the president told The Financial Times that if China didn't agree to help the United States counter North Korea's nuclear threats, he would "have to act alone."
News of this statement spread immediately across the Internet.
Urgent: This small $6 U.S. defense firm with a new top-secret technology could help the Pentagon stop a Chinese sneak attack dead in its tracks. Read more...
To the public, the message was "China doesn't want to help the United States against North Korea, so we'll have to fight this war on our own."
To China, the message was "See what I can do with just one public statement? You don't want Americans - with their businesses and e-commerce money and product manufacturing needs - turning against you, right?"
The message worked. After that Mar-a-Lago summit, Trump and Xi's relationship suddenly grew chummier.
Trump described Xi as a "great guy" on numerous occasions afterward. On April 20, Trump praised the entire country (the same country he so fervently labeled on the campaign trail as a "currency manipulator" that "must be stopped") for its efforts to pressure "the menace of North Korea," Reuters reported that day.
But Trump's message yesterday, which didn't condemn China but rather lauded the country for "trying," may very well have contained yet another message...
One that went largely unnoticed by news outlets.
President Trump Prepares to Say "I Told You So"
This time, Trump isn't threatening China - he's setting the Red Dragon up for embarrassment.
You see, just a couple hours after Trump's tweet - around 5:30 p.m. - news broke that spy satellites over a North Korean nuclear test site spotted an uptick in activity there.
"The activity appears to involve some modifications around one of the tunnel entrances to an underground test area," CNN reported last night.
U.S. officials also stated, however, that "it is not yet clear if the activity indicates a sixth nuclear test is imminent," but noted "there is concern that North Korea could set off a test during [China's] visit to Washington," wrote CNN.
Then the news outlet added one more statement from these officials:
"If a sixth nuclear test by North Korea were to occur, it would be clear that the existing pressure by China on North Korea is not working."
And there you have the explanation for Trump's tweet yesterday.
He knew this news about North Korean nuclear activity was coming.
And if a bomb does goes off there, Trump will be able to tell the Chinese diplomats, in person, "I told you so."
And China will have to acknowledge either the fact that it didn't do enough to prevent North Korea's latest test, or that it just didn't care.
Love Him or Hate Him - 32.6 Million People Follow Trump's Twitter
Whether that's a good thing or a bad thing is moot.
What matters when it comes to your money is very simple - Trump's comments move markets, says Money Morning Chief Investment Strategist Keith Fitz-Gerald.
That's why, when it comes to investment input, Trump's tweets are every bit as viable as fundamentals, technicals, or even good old-fashioned headlines.
For example, savvy investors can place lowball orders on stocks they want, wait for Trump to slam them on Twitter, and nab the companies at a discount.
To find out which companies are likely on the president's hit list, as well as other ways to profit from Trump's Twitter feed, read on...
Follow Money Morning on Twitter @moneymorning, Facebook, and LinkedIn.
Related Articles: