Oil prices have dropped 17% since the start of 2017, taking oil to a seven-month low. Today, we're going to show you why oil prices are dropping and why we think they'll rebound before the end of the year...
WTI crude oil prices fell to $43.63 a barrel today, down from $52.33 at the start of the year. Crude oil prices are now down 20% since their 2017 high of $54.33, and that means we are at the start of an oil bear market.
With today's drop, the oil price is now lower than before the OPEC agreement was signed on Nov. 30, 2016, too. The signing of the OPEC deal initially sent oil prices soaring 18% to $52.33 between the Nov. 30 announcement and the end of the year.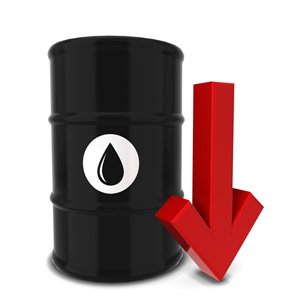 The optimism over OPEC's ability to cut supply and boost oil prices has ended, even after the oil cut agreement was renewed for another nine months on May 25. Now that oil has entered a bear market, the optimism among Wall Street traders that oil prices will rise has all but evaporated.
But we think the "experts" are missing one major factor when it comes to the future of oil prices.
Here's why oil prices are so low right now and why they could be making a double-digit rebound by the end of the summer...
This Is Why Oil Prices Are Dropping Right Now
Oil prices are dropping because higher American oil production is offsetting the OPEC production cut. That's causing traders to bid the price of oil down.
The OPEC deal cut the oil production of OPEC and 11 other participating countries by 1.8 million barrels of oil a day. The idea was that by cutting oil supply, oil prices would rise when fewer barrels of oil were on the market each day.
This Could Make Big Oil Obsolete: One gallon of this new "crystal fuel" could get you from New York to L.A. and back... seven times! Read more...
While cutting 1.8 million barrels of oil production a day is significant, OPEC's reach is still limited. Over 90 million barrels of oil are produced a day, and OPEC only accounts for about one-third of the overall global production. That means the OPEC deal, and oil prices, are vulnerable to changes in global oil production.
When the deal was made, oil traders reacted favorably and bid up the price of oil 18%. But those higher oil prices caused American production to rise.
U.S. oil production is up over 6% since the start of 2017, thanks to the rally oil prices experienced between Nov. 30 and their 2017 high in February.
More than half of the United States' proven oil reserves are in shale formations. Shale oil is expensive to recover, meaning it's only profitable for companies to drill shale oil when prices are higher. The breakeven price for shale oil in the Permian Basin, for example, ranges between $40 and $60 a barrel.
So when oil surged 18% in the month after the OPEC deal was announced, American oil producers took advantage of the higher price by pumping more oil. But the more oil American companies produced, the less impact OPEC's 1.8 million barrel production cut has. America's oil production is up about 600,000 barrels of oil a day since the start of the year.
Must Read: Banks Are Manipulating Oil Prices Right Now
Libya and Nigeria have also both increased their oil production. Both countries are members of OPEC, but they are exempt from the production cut because conflicts had hindered their ability to produce oil.
The Wall Street Journal reported today (June 21) that both countries have seen their oil production rise to new highs. Nigeria is now producing 1.68 million barrels a day, its highest point in a year. Libya is up to 885,000 barrels a day, three times its level from a year ago.
With oil production increasing outside of the OPEC deal, traders are now pessimistic that oil supply will fall enough to boost prices, and that's driven oil prices down even more.
But there's good news for oil prices on the horizon. Money Morning Global Energy Strategist Dr. Kent Moors says the OPEC deal is eventually going to shave off enough of the world's oil supply to boost prices by double-digits.
Here's our oil price forecast for 2017 and oil price target for September...
Our Bold New 2017 Oil Price Prediction for September