Precious metals have been pummeled since the Federal Reserve rate hike last Wednesday, and silver prices have seen the worst of it. While the gold price is down 1.8% since June 14, silver is down 3.6% to $16.53 today (Thursday, June 22).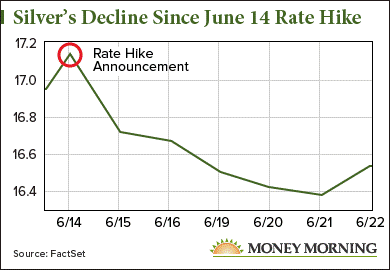 But this is just a short-term pullback. Our shocking new silver price prediction for the rest of 2017 is still extremely bullish. In fact, Money Morning Resource Specialist Peter Krauth expects a 33.1% gain to $22 by the end of Q4.
In addition to that silver price target, we're also going to show you a silver stock today that could see even bigger returns from the silver price rally. Shares of this firm are up a modest 2.8% this year, but analysts say they could soar as much as 55.7% over the next 12 months.
First, here's why we're so bullish on the price of silver in 2017, despite this past week's 3.6% drop…
Why the Fed Rate Hike Is Fueling Our Bullish Silver Price Prediction
Rate hikes are known for inducing short-term silver price volatility. They provide a huge boost to the U.S. dollar, which can reduce silver demand for users of other currencies and therefore lower silver prices. The dollar surged on the U.S. Dollar Index (DXY) from 96.95 to 97.47 the day after the FOMC meeting on June 15. In response, the price of silver fell 2.5% to $16.72 the same day.
But over the long term, interest rate hikes typically have a huge bullish effect on the metal…
"Both previous rate hikes [in March and December 2016] acted as long-term catalysts for precious metals, and odds are good that will happen again this time," Peter told Money Morning readers on June 12, two days before the rate hike announcement. "Silver soared 9.4% in the month after the March 15 rate hike and is still up 0.7% since then, taking into account the recent sell-off. It's up 6.8% since the increase on Dec. 14, 2016."
It's clear that Fed rate hikes are boons for silver prices in the long term. Since that first rate increase in nearly a decade on Dec. 16, 2015, the metal has climbed 16%. There have been three more rate hikes since then.
Even more proof can be found back in the 1970s, when U.S. interest rates were at their highest levels in modern history…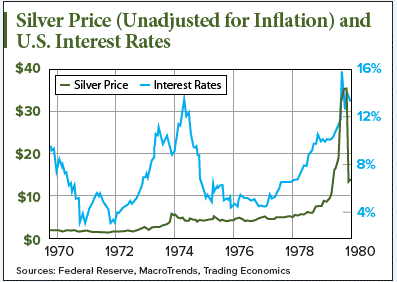 During the decade, silver prices rocketed from under $2 per ounce in 1970 to about $35 per ounce in January 1980. That's a remarkable 1,650% rally, which happened alongside a rally in the benchmark federal funds rate. It leaped from near 8% to a record high above 15% over the same length of time.
This simultaneous surge in the price of silver and interest rates was most prominent during the last two years of the decade. From 1978 to 1980, the metal rocketed about 607% while the federal funds rate jumped from roughly 5% to 15%. For comparison, the all-time high interest rate, above 15% in 1979, was 12 times the size of the high end of the current rate range of 1%-1.25%.
Must See: An incredibly rare gold anomaly is shaping up in the markets as we speak — one that has occurred ONLY twice in the past 20 years. And it's about to happen again. Details here…
After the June 14 rate hike, the Fed offered a healthy economic outlook, which supports more interest rate hikes in 2017 and in turn supports our silver price prediction of a 33.1% gain this year. It raised its 2017 GDP growth forecast from 2.1% to 2.2%. The Fed also commented that it expects unemployment to decline more than previously anticipated.
But our silver stock recommendation below could hand you a much larger return than if you just hold physical silver. Thomson Reuters analysts say this silver stock could see a profit as big as 55.7% by June 2018. That would make it one of the best ways to make money from the silver price rally this year.
Here's one stock to consider today…
This Could Be One of the Best Silver Stocks to Invest in This Year