Putting together a biotech stock portfolio with the best stocks in the industry can provide you with market-beating returns in 2017. The iShares Nasdaq Biotechnology Index exchange-traded fund (Nasdaq: IBB) is up 18.4% year to date. That is more than double the 8.3% gain the Dow has experienced so far this year.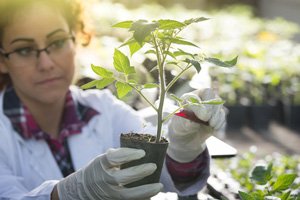 And these market-beating profits are expected to continue this year. Biotech medication sales are expected to grow 20% in the next two years, according to FactSet.
But the specific biotech stocks and the mix you choose for your portfolio are crucial for maximizing your gains. Investors who followed the advice of Money Morning Biotech Investing Specialist Ernie Tremblay in his Biotech Insider Alert gained 35 times the market returns in 2015.
Tremblay has four tips to make your biotech portfolio profitable, as well as a five-step vetting process to pick the biotech stocks with the best upside potential...
How to Build a Biotech Stock Portfolio: It's All in the Mix
The first tip for building your biotech portfolio is to make sure you have a mix of asset classes in your portfolio. A small biotech company may have a very promising drug in its research pipeline and have huge gains, but may not receive FDA approval depending on trial results. This kind of outright rejection or delay while redoing trails can be extremely costly.
Must See: Get $45,000 Worth of Our Best Stock Research for Just Pennies a Day...
For example, the clinical-stage vaccine developer, Novavax Inc. (Nasdaq: NVAX), was trading near $8 a share in September 2016. The company was expected to release positive results for the phase 3 clinical trial of the vaccine against respiratory syncytial virus (RSV) in older adults. But on Sept. 15, the company released results showing that the vaccine was not effective. That day, NVAX dropped 84.5% to end the day at $1.29 a share.
The best portfolio strategy is to have a mix of small-cap stocks with huge upside potential along with large-cap stocks that offer more stability. A mix like this will allow you to benefit from the upside and protect against any drops.
Tremblay's second tip is to have no more than 2% of your investable funds in any single stock, even if that stock has products on the market. A single stock can be impacted by a number of factors, including the launch of a competing drug, reports of patient difficulties with the drug, or a drug going off patent. This will also ensure your biotech stock portfolio is diversified.
The third recommendation is to use limit orders. Limit orders allow you to set a maximum price to buy a certain stock. These help prevent you from buying a stock at an artificially high price if there is a lot of volatility.
Lastly, Tremblay suggests using the dollar-cost averaging strategy. Dollar-cost averaging is a portfolio technique to make sure that stock purchases take place regularly over time in order to bring down your overall investment cost per share.
For example, if you buy $100 worth of shares of XYZ Co. for $10 each this month (10 shares) and then buy $100 more next month at $9.09 (11 shares), your average price per share is $9.52. Maybe next month those same shares are $11.11 each (9 shares). That would bring your average cost per share to $10 even though you bought shares at a higher price than the initial investment.
While these tips help you build a profitable biotech portfolio, picking individual biotech stocks to put in your investment portfolio is a little different.
Many small biotech companies have no earnings and survive on grants to fund research for new treatments. Because of this, evaluating biotech stocks requires a different checklist of considerations.
Tremblay has five tests that a biotech stock needs to pass in order to be a good investment opportunity. By making sure your potential biotech investments pass these tests, you will reduce your losses and boost your upside potential...
What to Look for in a Biotech Stock Portfolio Pick
Following these five guidelines, you will be able to pick companies with huge profit opportunities and fewer of the pitfalls that plague biotech stocks.
The first guideline is to look for a strong pipeline...
Biotech Stock Test No. 1: A Strong Pipeline
You want to look for pipeline strength. Having just one or two prospective treatments in development could spell disaster because only one in every five new drugs gets FDA approval, according to Tremblay. The best way to combat the odds that a new treatment will fail is to have three or more in different stages of development. This increases the likelihood that at least one of the drugs will become FDA-approved.
The good news is that you don't need to wait until a drug is approved to invest. There are benchmarks along the FDA-approval path that will help you determine the likelihood that a drug will make it to market...
Biotech Stock Test No. 2: Safe and Effective Drugs
New treatments need to be both safe and effective to be FDA-approved. Unfortunately, many investors jump the gun and invest in promising treatments before there is enough data to know if both conditions are met.
The best way to prevent investing in a new treatment too early is to wait until phase 2 clinical trial results are published. By phase 2, the drug will be proven safe and effective.
While a drug can still fail to prove it is more effective than current treatments in phase 3 trials, waiting until it passes phase 2 trials will increase the odds of FDA approval.
Biotech Stock Test No. 3: The Cash Burn
Biotech companies that are developing drugs don't necessarily have sales. If a drug is not yet on the market, a company's operations will be supported by grants, loans, and private investors rather than revenue. As a result, the key financials are slightly different.
One of the key indicators for companies with products in development is the burn rate. It lets investors know how long the company can operate with its current cash on hand. You don't want to invest in a company only to find out it only has enough cash on hand for the next three months.
To calculate the burn rate, add the total cash flow from operating activities and capital expenditures together. Divide by three if you used the quarterly numbers or by 12 if you used the annual numbers in order to obtain the average monthly figures for cash outflow. (All of these figures can be found on Yahoo Finance under the relevant ticker symbol.)
Then, go to the balance sheet and find the most recent figure for cash and equivalents. That figure then needs to be divided by the monthly cash outflow. The resulting number will show you how many months the company can last before it needs to find additional funding.
For example, if XYZ Co. had a cash flow from operations of $150 for the quarter and capital expenditures of $150 in the quarter, the total outflow would be $300, or $100 a month. We'll pretend the company has $1,200 cash on hand. That would mean the company could operate for 12 months before needing additional funding.
Biotech Stock Test No. 4: Patent and/or Exclusivity Grants
As you research companies for a biotech stock portfolio, keep abreast of its patents and/or exclusivity grants. Patents and exclusivity grants give the company protection from competitors for a set period of time after it develops a new treatment. That protection allows it to charge more (and profit more) from its development before generics are introduced to the market.
Also, if a patent is due to expire in the next year or so for a major drug, factor that into the profit potential. Once the drug comes off of patent, generics will be allowed to enter the market, causing the company to lose sales.
Once the biotech stock you are targeting passes through these test, you can be assured that the company will be a good investment. However, this last test needs to be done before you buy a stock and frequently after you buy a biotech stock to ensure you are able to continue to profit...