China is currently the world's biggest emitter of carbon dioxide and has been responsible for half of the world's coal consumption over the last 20 years. But in China, renewable energy is quickly taking over for fossil fuels.
China's solar power capacity alone could skyrocket over 700% by 2035.
Investing in China's renewable energy sector is going to pay off for those who get in early. Right now, we have a way to tap into China's ambitious solar power surge for profits as high as 33% this year.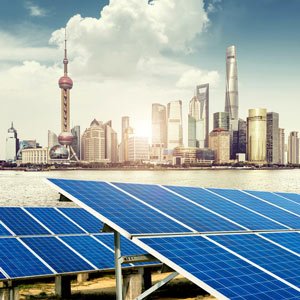 Another catalyst for China's renewable energy industry is the country's current energy consumption.
China is the world's biggest consumer of energy, and it's increasingly relying on clean energy to fulfill its needs. China's electricity production has almost doubled since 2007, and renewable energy now accounts for 25% of its overall electrical power production. That's made China the biggest producer of renewable energy on the globe, surpassing the United States.
Now that the United States has withdrawn from the Paris Climate Accord, China stands to become the global leader on clean energy.
Money Morning Global Energy Strategist Dr. Kent Moors says the United States leaving the Paris Agreement "does mean that America is giving up a leadership position in the absolute fastest-growing, most potentially lucrative segments of the energy sector."
This Could Make Big Oil Obsolete: One gallon of this new "crystal fuel" could get you from New York to L.A. and back... seven times! Read more...
But America's reshuffling can be your gain if you invest in China's renewable energy sector.
"Just because leadership in this sector is moving abroad doesn't have to mean that you as an investor lose out," said Moors.
And we have a Chinese clean energy stock that's positioned to soar 33% this year alone. And those estimates could be conservative if China's role as a renewable energy leader grows.
Before we show you our Chinese renewable energy stock, here's why energy investors must take China seriously...
China: Renewable Energy from Solar Will Grow 700% by 2035
Countries across the globe have been pouring money into developing renewable energy sources, and China is one of the biggest supporters. Between 2004 and 2005, global funding for renewable energy skyrocketed nearly 600%, and China was responsible for over one-third of that growth.
That makes China the single largest investor in renewable energy in the world.
That's why Wood Mackenzie expects China's solar power generation to grow by more than 700% by 2035
The fact that China is assuming leadership over the Paris Climate Accord should only boost those growth figures. China has pledged to slash its carbon emissions nearly in half by 2020, and as the New Scientist reported in 2016, China will easily surpass that ambitious goal.
Because China produces over a third of the world's carbon output, cutting it in half will require China to grow renewable energy capacity. The surge in renewable energy necessary to achieve that goal makes investing in China's renewable energy market such a tantalizing prospect for investors.
And China's solar industry will benefit the most...
Video
Fitz-Gerald Says Investors Have to Act Quickly on China
Currently, solar power makes up 8.5% of China's renewable energy output, coming in behind hydropower and wind power. That means China's solar industry has the biggest room for growth.
A report by Wood Mackenzie says worldwide solar-powered electricity generation will grow 11% annually through 2035, compared to 7% a year for wind.
But in China, solar power will grow even faster. China's most recent "Five-Year Plan," issued in 2016, projects China will triple its solar capacity every year through 2020. That's why Wood Mackenzie expects China's solar power generation to grow by more than 700% by 2035.
This isn't wishful thinking either; China is already making progress.
Trending: Why 2017 Is the Year for Investing in Renewables
China's solar energy capacity jumped 74% between 2014 and 2016, and China is expecting it to grow even more rapidly as it actively pushes renewable energy.
The International Renewable Energy Agency's 2017 "Rethinking Energy" report says China's push for solar energy is already leading renewable energy employment.
"Asia provides 60% of renewable energy employment, largely due to the solar industry in China," says the report, "where a major share of the world's PV and solar thermal heating technologies are manufactured."
It's no surprise, then, that China is now the world's largest market for new photovoltaic (PV) capacity, according to the 2016 "China Renewable Energy Outlook."
With China taking over global leadership on renewable energy, now is the best time to invest in China's solar energy sector. And we have a China solar stock that's projected to soar 33% this year alone, but it could go even higher as China's renewable energy ambition pushes the solar industry to new heights...
How to Invest in China's Clean Energy Revolution for 33% Profits