The Dow has rocketed 153% higher over the last eight years, making this bull market the second longest in history. But all bull markets end, and with this one nearing record length it's time to consider whether it will end in a stock market crash.
While this current bull market has brought triple-digit growth over the last eight years, the Trump rally kicked it into overdrive. The Dow has surged 17% since Election Day, pushing the Dow to a record-breaking run of all-time highs. The Dow's jump from a record 20,000 points to a new record of 21,000 points was its fastest 1,000-point gain in history.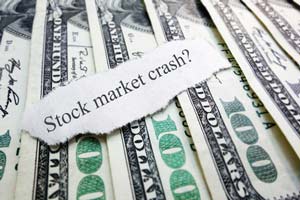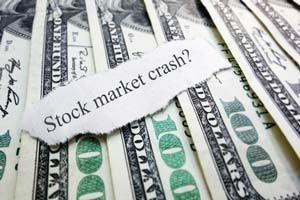 This record run might have pushed stock prices to unsustainably high levels. We aren't suggesting there is a stock market bubble right now, but there is evidence stock prices are higher than the underlying fundamentals show they should be.
Because we want Money Morning readers to be totally prepared for any event, we'll show you why artificially high share prices could lead to a market crash in 2017, and how you can protect your money if the worst-case scenario happens…
Why Inflated Share Prices Can End in a Stock Market Crash
Stock market crashes are likelier when stock prices are artificially inflated, especially by risky speculation.
Consider the stock market crash of 1929. In the seven years prior to Black Friday, the stock market skyrocketed over 300%. While these gains sound great, investors were pushing stock prices higher on risky bets under the false belief the market would only go up. Amateur investors borrowed more than $120 billion to buy stocks during the 1920s.
This cash and mentality helped push stock prices higher, but when the market dipped investors panicked. Since they had borrowed money to buy stocks, they couldn't sustain any losses and were forced to sell as quickly as possible. The stock market crash of 1929 led to the Dow losing 86% of its value by its end in 1932.
Must See: This Great Depression-Era "Secret" Helped Transform Two Teachers into Millionaires. Read more…
Similarly, another bout of risky speculation helped boost stocks ahead of the 2008 stock market crash. This time, there was rampant speculation in the real estate market, with consumers buying homes that they didn't need or couldn't afford through subprime mortgages.
Housing prices doubled between 1996 and 2006, the height of the boom. At the same time, those subprime mortgages were packaged into securities and traded on Wall Street where ratings agencies labeled them as grade-A debt.
When this bubble popped, both the stock market and the housing market crashed. The Dow fell 42% between September 2008 and March 2009.
Risky speculation pushing stocks to unsustainable heights is a warning sign of an oncoming stock market crash, and we are seeing some of those signs right now…
Why a 2017 Stock Market Crash Is Possible
One measure of the stock market's value is the Shiller P/E ratio, which was created by Yale's Robert Shiller to provide an accurate measure of market valuation. Today, that ratio sits at 30, which is 78.6% above the historical average.
Not only is it 78.6% higher than average right now, but it's nearly three points higher than before the 2008 stock market crash when it reached a level of 27.4.
One of the reasons for the high valuations is that low interest rates stemming from the 2008 financial crisis have made borrowing money cheap and easy. Interest rates were slashed from over 5% in 2007 to 0.25% in 2008 to help boost the economy.
Trending: The Four Best Silver Investments This Year (and Why You Need Them in Your Portfolio Today)
But businesses took advantage of the cheap borrowing to repurchase shares of their own stock and push their share prices back up.
Between 2008 and 2016, publicly traded companies repurchased over $2 trillion of their own stock. They were able to do this by borrowing $1.9 trillion during the same time period. That's helped share price growth easily outpace corporate profits.
Corporate profits have risen just 66% since March 2009, while the Dow is up more than double that in the same period.
Now that interest rates are beginning to climb – the U.S. Federal Reserve just raised rates for the third time since December – those stock buybacks are going to slow down. It's possible a market correction could result, but it's also possible traders overreact and cause the next stock market crash.
While that's the worst-case scenario, smart investors are always prepared. To help you be prepared, we're bringing our readers expert insight on how to protect your money during a market crash…
How to Protect Your Money During a Stock Market Crash