The Koch brothers' political lobbying groups are hell-bent on nipping the Senate healthcare bill's progress in the bud.
Specifically, the conservative organizations believe the legislature - known as the American Health Care Act (AHCA) - proposed in Congress last week doesn't go far enough to fully repeal Obamacare.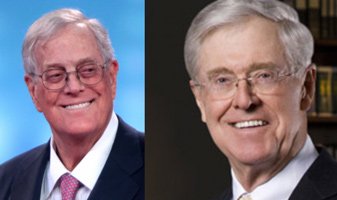 So the billionaire siblings - Charles and David Koch - hosted a retreat this past weekend to brainstorm ways to fix it.
In attendance were Sens. Ted Cruz (R-TX), Mike Lee (R-UT), Dean Heller (R-NV), and Ben Sasse (R-NE), each one of whom publically opposed the Senate's AHCA version after its big reveal on June 22.
The powwow focused on last-minute changes that can still be lobbied for this week, as the open amendment process to the Senate's proposal has yet to commence...
Here's a look at these proposed changes...
The Koch Brothers' Summit Healthcare Amendment No. 1: Allow Insurers to Slash Coverage
Sen. Cruz touted his "Consumer Freedom Amendment" at this weekend's retreat. Essentially, this amendment would allow insurers to sell skimpier, cheaper plans that don't follow Obamacare's Title 1 requirements, which mandate 10 services insurers must cover with no cost-sharing.
Don't Miss: How Will the New "Age Tax" Affect You?
The pros: Relaxing the ACA's essential health benefits mandate for insurers would lower the cost of insurance premiums for healthy, younger individuals.
The cons: While these plans would offer skimpier coverage for cheaper monthly fees, they would also come with high deductibles.
Since Obamacare's 10 essential health services mandate will ultimately be left for states to decide whether or not to keep, a state could deem these 10 services not medically necessary in one fell swoop. This could result in major healthcare expenses for some citizens.
For example, states would be able to waive the requirement that insurance companies cover mental health care. In such a state, someone requiring hospitalization for an acute mental health problem - and who only has low-premium catastrophic coverage - may find that their insurance plan doesn't cover a hospital stay for that reason. This person could find himself facing exorbitant medical care costs after all is said and done.
The Koch Brothers' Summit Healthcare Amendment No. 2: Increase the HSA Cap
Several senators in attendance at the Koch brothers' weekend cloister aim to increase caps on tax-free Health Savings Accounts (HSAs).
Under current Obamacare stipulations, HSAs are capped at $3,400 for single coverage and $6,750 for family coverage.
Senate GOPers are pushing for HSA cap increases that practically double these ACA limitations...
For individuals, the limit would rise to $6,650 from the current $3,400. For families, the limit would go from $6,750 to $13,300.
The pros: It will boost tax breaks for people with high-deductible healthcare plans by allowing them to sock more money back into their tax-free HSAs to cover their out-of-pocket costs.
The GOP plan would also restore the ability to use HSA funds to pay for non-prescription health costs such as over-the-counter drugs. Obamacare nixed this option.
The cons: While the tax-free perks of these accounts sound nice, raising contribution limits on HSAs disproportionately benefits the highest-income Americans. After all, they're the ones most capable of saving money in the first place.
Also, boosting benefits for HSAs doesn't come cheap. On March 7, Congress' Joint Committee on Taxation released the estimated costs of implementing this provision in the American Health Care Act: $19 billion through 2026.
The Success of These Koch-Summit Amendments Relies on One Key Factor
The overall success of these two amendments depends on the Congressional Budget Office's (CBO) assessment of the healthcare proposal...
The non-partisan financial committee's estimate is due this week - possibly today...
Basically, the Kochs and the senators who attended their weekend summit want the CBO to validate their concerns that the current iteration of the AHCA is no more cost-effective than Obamacare.
That would almost assuredly stop the bill from being passed... and give them more leverage to get their amendments into the next iteration.
Indeed, CBO's assessment is expected to reveal that the current Senate healthcare bill hurts older Americans...
"The CBO report is expected to show that many Americans, particularly those in their 50s and early 60s, would pay more under the [currently proposed] Senate plan," reported CNN this morning.
In fact, the CBO's final assessment this week could reveal that the Senate's healthcare bill will actually call for even more exorbitant spending on the government's part...
"While it's true the current version of the AHCA repeals Obamacare's taxes and reduces Medicaid spending growth, it also boosts [government] spending on subsidies," wrote Sen. Ron Johnson (R-WI) in a New York Times op-ed this afternoon.
Essentially, the Senate's version of the AHCA beefs up subsidies for people who need help buying insurance so much that it would cancel out the savings gained by reducing Medicaid growth.
As far as Johnson is concerned, the Senate's healthcare bill just isn't enough of a do-over.
And that makes it all the more likely that the two amendments produced by the Koch Brothers and their senatorial confidantes will get attention on the Senate floor.
In the Meantime, Healthcare as We Know It Will Change...
Because Republicans have control of the House, the Senate, and the White House, the ball's completely in their court, quite possibly on its way to the net. And with each new amendment to and iteration of the AHCA, sick and healthy Americans alike find themselves on shakier ground.
So many Americans, uncertain of their medical futures, are shirking healthcare coverage altogether.
They're opting for herbal remedies instead - and to medical marijuana, in particular. In fact, data from 2016 revealed there are over 2,604,079 medical marijuana patients in the United States right now - and that number is growing, according to the Marijuana Policy Project.
On top of that, there are 15 medical conditions that show great improvement when treated with medical marijuana in clinical trials. This number continues to climb.
And you can profit from this trend.
You see, the U.S. marijuana industry has created an estimated 100,000 to 150,000 jobs nationwide.
Money Morning has long been following the burgeoning medical marijuana industry, which now grosses more than $5.4 billion a year.
And we've found investment opportunities aplenty in this burgeoning market - including what we expect to be Microsoft Corp.'s (Nasdaq: MSFT) biggest catalyst for the foreseeable future.
Money Morning Director of Technology & Venture Capital Research - and pot stock expert - Michael Robinson shares everything investors need to know about breaking into the budding legal marijuana industry in this 89-page "bible of weed investing," The Roadmap to Marijuana Millions.
Click here to find out how to reserve your copy today...
Related Articles:
Follow Money Morning on Facebook, Twitter, and LinkedIn.
[mmpazkzone name="end-story-hostage" network="9794" site="307044" id="138536" type="4"]