The Blue Apron IPO is scheduled for Thursday, June 29, 2017. The food delivery service will list itself on the New York Stock Exchange (NYSE) under the official Blue Apron stock symbol "APRN."
When Blue Apron stock officially trades, it will be listed under the company's full name, Blue Apron Holdings Inc. (NYSE: APRN).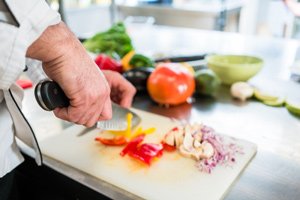 And ahead of the Blue Apron IPO date, our readers have been asking us if they can get in on owning shares of APRN early.
Here's when investors will be able to buy Blue Apron stock, plus a link to our complete IPO guide with everything you need to know about Blue Apron…
Why You Can't Buy Blue Apron Stock Early
Before APRN stock is offered to the public, well-connected investors, big banks, and large institutions are allowed to buy APRN stock at an IPO price.
This price is cheaper than what retail investors will pay for Blue Apron stock when it's sold to the public on June 29.
For example, the Snap Inc. (NYSE: SNAP) offering price to wealthy insiders was $17 per share. When retail investors were finally able to buy shares of SNAP on March 2, the Snap stock price opened at $24 per share.
Video
The NYSE President on the Blue Apron IPO
The mainstream media touted that shares of Snapchat surged over 40% on its first day of trading but failed to mention that wealthy insiders were the only ones who made those gains.
The Blue Apron IPO price is between $15 and $17 per share, which is what the insiders will pay. Retail investors will have to pay more on June 29.
We know this is confusing, which is why we wanted to make sure all of our readers were prepared for the Blue Apron IPO before June 29.
A Better Path to Profits: Blue Apron isn't publicly traded yet. But you can get stock picks and research that could put an extra $125,000 in your pocket delivered straight to your inbox for just pennies a day. Learn more…
In our free and exclusive Blue Apron stock and IPO guide, we discuss the history of the company, the Blue Apron valuation, and how much money Blue Apron made in the last three years.
At the end of the guide, we will also share whether we think buying Blue Apron stock on the IPO date is a good investment.
Make sure to read it before June 29.
Follow Money Morning on Facebook, Twitter, and LinkedIn.