China has a new plan of attack in the South China Sea: espionage.
This morning, Beijing declared its new "invisible sub" primed and ready for its first official post-trial phase "research" mission. The sub is called the Jiaolong - named for a mythical sea creature - and its alleged purpose is to collect deep-sea samples of sediment, rock, and water for scientific research.
But the difficult-to-see, deep-water probe is now headed from the South China Sea to the East China Sea - a route that has raised some eyebrows among defense analysts and maritime law experts.
Here's why they're so skeptical about the Jiaolong's deep-sea movements, with some even wondering if China's true intent has less to do with scientific research and more to do with spying on its competition in nearby Pacific waters...
China's Little Sub Is in the Right Place at the Right Time
To get a better idea of why scientists and analysts are suspicious of the tiny craft's research mission, let's first look at the history of the Jiaolong submersible (it's not a submarine, mind you, because of its short operational range).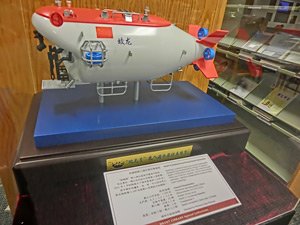 The Jiaolong's first test run occurred between May 31 and July 18, 2010, in the South China Sea. This was before the region became a hotbed of territorial claims and disputes between China and six chief neighboring nations.
A couple years later, in June 2012 - just before the regional dispute flared up -- the Jiaolong scaled the depths of the Mariana Trench in the western Pacific Ocean. It dove to a depth of over 7,000 meters to research and collect seawater samples, sediment, and rock. The mission caused very little media stir in spite of the submersible's awesome accomplishment; only two other missions have ever scaled deeper - both were carried out by the Deepsea Challenger.
Then, in 2013, tensions in the South China Sea began to boil. That's when Beijing asserted that it owns almost 90% of the maritime region, which spans 1,000 kilometers from China's mainland to within less than 100 kilometers of the coasts of the Philippines, Malaysia, and Vietnam (who also lay claim to the area).
That dispute has culminated in a years-long stalemate in spite of the International Hague Tribunal's July 2016 ruling that China does not have sovereignty there (China has basically ignored the ruling).
But it was this past April that the little Jiaolong sub began to show signs of its darker side...
The Jiaolong Claims Sovereignty Over the "Blue Hole"
On April 5, the submersible joined China's 38th deep-water expedition, which was already underway, to study and preserve the health of a rare oceanic phenomenon known as the "Blue Hole" in the South China Sea.
The Blue Hole is a literal oceanic sinkhole that starts at the water's surface. It was just discovered on July 28, 2016 - about two weeks after the Hague's decision - smack in the middle of the contested waters. China has vehemently claimed countless times that protecting the "Blue Hole" from man-made landfills and environmental damage is its patriotic duty.
But on that particular April expedition, the Jiaolong did something that researchers on the sidelines considered to be more symbolic than scientific.
It bored into the sediment there to extract more samples.
Seemingly no big deal, but analysts were perturbed...
Must See: This small $6 U.S. defense firm with a new top-secret technology could help the Pentagon stop a Chinese sneak attack dead in its tracks. Read more...
"One can, of course, only mine a seabed over which one has sovereignty," said Jeffrey Wilson, senior international political economist at Australia's Murdoch University, according to Forbes this morning. In other words, the Jiaolong's scientific mission doubled as a way for China to plant its flag in the hotly contested region.
That latest South China Sea mission for the Jiaolong, coupled with the knowledge of where the sub is headed next, has left some thinking that the small craft is actually in the middle of a much larger espionage mission...
 China Is Sending Little Jiaolong Off to Camp - in the East China Sea
You see, the Jiaolong will soon be on its way to the East China Sea - another maritime location over which China lays claim.
As does Japan.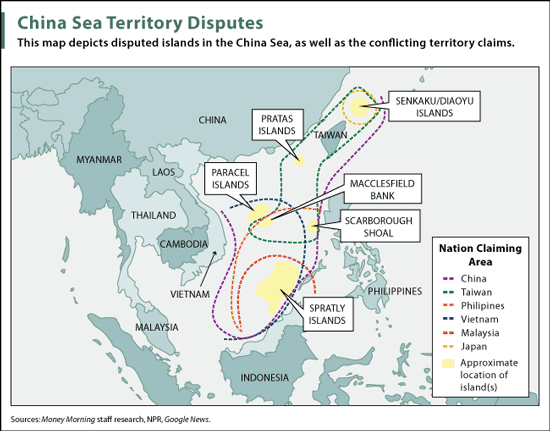 Specifically, both nations believe that an archipelago of eight uninhabited land masses there belongs to them. These islands are called the Senkaku Islands by the Japanese and the Diaoyu Islands by the Chinese.
The Jiaolong's travels - for example, its trip from the South China Sea to the East China Sea - could allow China to gather info "on what other countries are doing," Ralph Jennings, a reporter who covers recent Asian news for Forbes, said today. "[China] can at least lock in [its] claims by getting to know disputed tracts of sea better, as less-developed countries such as Vietnam and the Philippines are unlikely to have advanced submersibles."
The sub's overall trip, then, may very well be one large reconnaissance mission disguised as a quest for scientific research.
Money Morning's Executive Editor Bill Patalon - who has three decades of research and knowledge about Asian warcraft, spacecraft, and watercraft under his belt - believes this is exactly what's happening.
"Clearly the Jiaolong is an intelligence-gathering 'boat' (the slang term for submarines) in the East and South China seas," he writes. "And it's yet another example of the 'moves and counter-moves' that are fueling the Asia-focused 'new arms race.'"
Here's what Bill means...
The United States Is Preparing for a China Sea "Battleground"
"China's new stealthy sub shows how this arms race is going to be driven by technology and will just keep escalating," Bill explains, before going on to describe how the United States, for its part, is already trying to counter the emergence of such high-tech, deep-water vessels.
"The U.S. Navy introduced a device of its own a few years back," he says, "a 'self-driving ship' known as the Sea Hunter. It's something I've talked about extensively in Private Briefing. That ship is now undergoing what defense contractors refer to as 'operational testing.'"
The Sea Hunter's test phase may be similar to those already completed by the Jiaolong.
"The vessel will be able to detect and track submarines, search for mines, and use a number of types of sensors to gather intelligence," Bill writes. "It's essentially the naval equivalent of the Alphabet Inc.'s (Nasdaq: GOOGL) self-driving car, since it's designed to cruise the sea's surfaces - unmanned and autonomously controlled - for as long as three months at a time."
Bill explains that the timing and geographic focus of the Sea Hunter is very telling as well...
Both Russia and China have made major investments in autonomous ships of their own. "So the Sea Hunter's very existence acknowledges the Pentagon's realization that the China Sea region is going to be a major 'battleground' - geopolitically speaking - for decades to come."
Read more of Bill's priceless insight on the Asian arms race here - including his latest tech coverage of autonomous vehicles, especially drones.
If you've always thought of drones in military terms or just as toys, this is a wake-up call. Find out more here...  
Follow Money Morning on Twitter @moneymorning, Facebook, and LinkedIn.
Related Articles:
[mmpazkzone name="end-story-hostage" network="9794" site="307044" id="138536" type="4"]