(Kitco News) – World stock markets were mostly lower overnight, following the lead of Wall Street's losses Tuesday.
The gold market is moderately higher in pre-U.S.-session trading Wednesday, supported in part by the slumping U.S. dollar index and on short covering from recent selling pressure.
The world marketplace is still digesting big news events that occurred Tuesday. A more hawkish tone on monetary policy in a speech delivered by European Central Bank President Mario Draghi on Tuesday pushed the Euro currency sharply higher, to a seven-month high, and saw the biggest one-day gains in over a year. Draghi's comments have also pushed European bond market yields higher the past two days. Meantime, the U.S. Senate decided to postpone until after its July Fourth holiday recess an attempt to push through legislation on health care reforms. That news helped to sink the U.S. stock market Tuesday.
The key "outside markets" on Wednesday morning see Nymex crude oil futures prices slightly lower. The oil market bears have the solid overall near-term technical advantage as prices are trading around $44.00 a barrel. Meantime, the U.S. dollar index is modestly lower early today and hit a seven-month low overnight, on follow-through selling pressure after strong losses seen Tuesday. The greenback bears have the firm overall near-term technical advantage.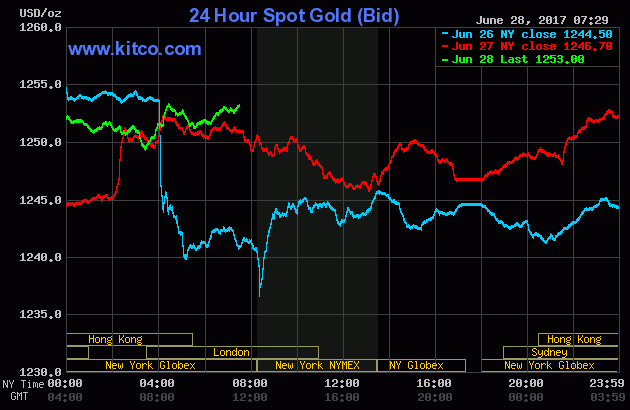 U.S. economic data due for release Wednesday includes the weekly MBA mortgage applications survey, the advance economic indicators report, pending home sales and the weekly DOE liquid energy stocks report.
By Jim Wyckoff, contributing to Kitco News; jwyckoff@kitco.com