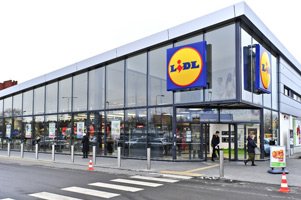 It's pronounced "lee-duhl" - you'll need to know that when a Lidl supermarket replaces your local grocery store.
Lidl is a German grocery chain that offers heavily discounted yet shockingly high-quality products.
"[Lidl] is going to be an interesting wake-up call for a lot of retailers," George Faigen, of management consulting firm Oliver Wyman, said to Retail Dive on June 15.
"The question is not whether it will disrupt the American grocery industry, but to what degree."
The company hopes to appeal to a wide range of shoppers with its simple store layouts and offerings pared down to just six aisles of carefully selected items. It's seen success throughout Europe, and now it's ready to take on the United States.
With a plan to open more than 600 stores across America, analysts expect Lidl to push traditional grocery stores to their breaking points, and the end result will likely be an Amazon versus Lidl "grocery war."
What's Lidl's strategy? Let's take a look...
Lidl Will Take the United States by Storm, Just Like It Did Europe
The German discounter evolved from a single store in tiny Ludwigshafen, Germany, to more than 10,000 stores across 27 countries in just over 40 years.
Lidl wants to reinvent exactly the way Americans shop.
Now Lidl has opened its first 20 stores in America. Its newest locations are concentrated in Virginia, North Carolina, and South Carolina, however 90 more East Coast locations are planned for the coming year.
To get ahead in the cutthroat U.S. grocery industry, Lidl executives say they plan to offer discounts that are practically unheard of to American consumers - up to 50% lower than rival stores.
What's more, several of the recently opened stores sit adjacent to or across the street from a Wal-Mart (NYSE:WMT), the "low-price" retailer, putting Lidl in prime position to steal critical market share.
How to Cash In on a Dying Industry: Over 40 retail stocks across America are DOOMED to fail. But we can help you make up to $100,000 on every single one of them. Learn more...
Lidl's entry to the American market comes at a time when shoppers are looking for new experiences. In fact, according to a survey from Oliver Wyman, an international management consulting firm, 39% of U.S. consumers say they would like to shop at Lidl once a week or more, while 67% said they would shop at the store at least once.
Video
A Look Inside a Lidl Supermarket
How Lidl Balances Quality and Price... and Why American Grocers Can't Keep Up
How is Lidl so successful?
The German grocer has made its name offering a very limited assortment of goods, many of them private label, at ultra-low prices - and it plans to use that same strategy to rein in U.S. consumers.
"A lot of the [typical] supermarkets are so large, it's a challenge for people to go shopping," said Lidl U.S.'s CEO Brendon Proctor last month. "If I wanted to go in and get a bottle of ketchup - first of all, there are probably about 24 aisles in the store. I have to find what aisle it's in. I get there, I find that there's 50 types of ketchup. Who honestly needs 50 types of ketchup? So we can streamline that."
Lidl's unique strategy is to offer a simplified assortment of goods to consumers. Pared down to just six aisles, Lidl's stores are easy for people to navigate. To make things efficient and keep storage costs down, Lidl often keeps items in the cardboard containers they were shipped in.
You see, the company is able to offer its high-quality, private label brands at below-average prices by cutting down on typical store costs like storage and lighting.
Lidl has also embraced technology in ways that other traditional brick-and-mortar retailers are failing to do. According to Retail Dive, Lidl uses data to measure everything - from the time it takes to move products to shelves to the exact care, temperature, and timing required to make a dozen roses bloom right as they arrive at the store.
"Lidl wants to reinvent exactly the way Americans shop," said Anne Schwedt, a German economy expert, to DW on June 14.
"The mainstream players are going to have a hard time competing with prices on the lower end, and they'll have a harder time being differentiated on the higher end," said Doug Koonts, head of content and research at Planet Retail, to Retail Dive.
However, even if Lidl takes out the mainstream players, the retailer still has to face this e-commerce leviathan...
Amazon: The King of All Disruptors
While Lidl's strategy of offering high-quality items at below-average prices is unique to the European market, we've already seen the same thing unfold in the United States.
We're talking about Amazon.com Inc. (Nasdaq: AMZN). The e-commerce leviathan just bought the giant organic grocery retailer Whole Foods Market Inc. (Nasdaq: WFM), and you can be sure it will give Lidl a run for its money.
But here's the thing: For investors, it doesn't matter which company wins the battle for the American grocery market. The smart money is on Amazon even if a Lidl pops up next to every Wal-Mart in the country.
That's because Amazon's hefty $13.7 billion investment has less to do with groceries and more to do with one long-term strategy.
You see, Amazon is going to leverage Whole Foods the same way it has leveraged its enormous warehouses, according to Money Morning Capital Wave Strategist Shah Gilani. Shah is an expert in identifying and profiting from market-shaking trends.
"The Whole Foods acquisition fills in the missing link in Jeff Bezos' grand plan to sell the world to the world and profit from the sale of everything, including books, clothes, food, and anything to do with data," said Shah on June 22.
Amazon's recent purchase means it has Whole Foods' 457 stores to play with.
"With an arsenal of fulfillment centers, pick-up centers, and shopping stores, Amazon will now change the grocery business the same way it changed retail in every other category," predicted Shah. "Once Amazon's locked and loaded in the grocery sector, its next target, only one step up from groceries, will be meal-delivery services. Then it will be on to the next step, restaurants."
And that presents a huge profit opportunity for investors...
For example, last week we bet heavily that Amazon would disrupt the grocery sector.
"The fruits of our shopping for losers in Amazon's way just netted us a tidy 995% gain (that's not a typo) on some cheap Kroger Co. (NYSE: KR) puts we bought for only $0.40 and sold last week at $4.38," said Shah.
But the party's not over yet. In fact, Shah's got his eye on dozens and dozens of other companies that are positioned to fail.
The truth is, there's a ton of money to be made on retail stocks - if you know what you're doing.
But before you go shorting retailers left and right, there are a few things you should know...
Follow Money Morning on Twitter @moneymorning, Facebook, and LinkedIn.
Up Next for You...
The Biggest Threat to American Farmers Is Already Here
Why Your Neighborhood Pharmacy Could Be the Next Victim of the Retail Ice Age
Blue Apron Stock and IPO Guide for the $3.2 Billion Food Industry Disruptor
Here Are 10 "One-Click" Ways to Earn 10% or Better on Your Money Every Quarter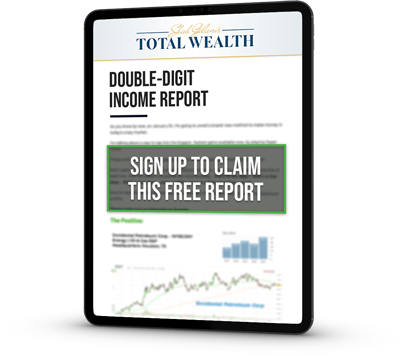 Appreciation is great, but it's possible to get even more out of the shares you own. A lot more: you can easily beat inflation and collect regular income to spare. There are no complicated trades to put on, no high-level options clearances necessary. In fact, you can do this with a couple of mouse clicks – passive income redefined. Click here for the report…