You don't need me to tell you that we're in the middle of a huge and growing opioid crisis.
I'm almost certain you've seen the statistics – and you've likely seen the evidence yourself.
Perhaps you live in a region that's been devastated by heroin and prescription opioids.
Or maybe you've seen an addict collapse in public.
Odds suggest many of you have friends and loved ones who have seen their lives destroyed by this epidemic.
But if you haven't seen the numbers – or if you're lucky enough to live in one of the few places that this crisis hasn't touched – let me show a few to you…
Overdose deaths involving prescription opioids have quadrupled since 1999. In 2015, opioids were involved in the deaths of 33,091 people in the United States. Most of these deaths – more than 22,000 (about 62 people per day) – involved prescription opioids, according to U.S. Department of Health and Human Services data.
And a 2016 study from the American Society of Addiction Medicine found that prescription pain relievers – almost entirely opioid-based ones – are the cause of roughly 40% of all drug overdoses. That makes them by far the leading cause of accidental death in the United States. The study also found that four of every five new heroin users started out misusing prescription painkillers.
I'm sharing these numbers here today for a reason.
The opioid crisis stems from the very real problem of chronic pain.
Doctors prescribe opioids to treat chronic pain.
Trouble is, these drugs are extremely addictive – and can lead to patients finding their fix in heroin.
I think there is a solution to this epidemic, however.
And we're perfectly positioned to profit from it, because one of our favorite marijuana biotechs – a true pioneer in this field – is poised to disrupt it in a big way.
I'll show you how and why in just a minute…
This Crisis Is Front-Page News All Over America
The opioid crisis has reached such high levels that it's showing up in prime time.
When NBC wanted to make a big splash with the debut of its "Sunday Night with Megyn Kelly" TV news magazine in early June, a story about the dangers of opioid-based drugs was one of the top stories, right alongside an interview with Russian President Vladimir Putin.
So it's no surprise that the powers-that-be in the United States are taking notice.
In fact, they've declared war…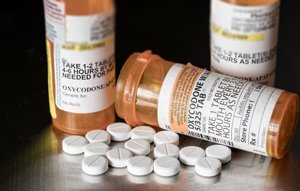 The state of Ohio recently sued five global biopharmaceutical companies, saying that their opioids fueled a surge in addiction to not only prescription drugs but also street-level ones.
Dr. Scott Gottlieb, head of the U.S. Food and Drug Administration, has warned that opioid-based scripts should be written far less often than has been happening in recent years. In a May 23 open memo, he cited some distributing statistics in painting the opioid issues as a top priority for all staff going forward.
But of course we know that pain isn't going to magically go away, so something will have to take opioids' place.
And reap all that market share – and all those profits…
Join the conversation. Click here to jump to comments…
About the Author
Michael A. Robinson is one of the top financial analysts working today. His book "Overdrawn: The Bailout of American Savings" was a prescient look at the anatomy of the nation's S&L crisis, long before the word "bailout" became part of our daily lexicon. He's a Pulitzer Prize-nominated writer and reporter, lauded by the Columbia Journalism Review for his aggressive style. His 30-year track record as a leading tech analyst has garnered him rave reviews, too. Today he is the editor of the monthly tech investing newsletter Nova-X Report as well as Radical Technology Profits, where he covers truly radical technologies – ones that have the power to sweep across the globe and change the very fabric of our lives – and profit opportunities they give rise to. He also explores "what's next" in the tech investing world at Strategic Tech Investor.