This list ranks gold dividend stocks in the mining sector by dividend yield. And it also includes one of our top gold stock recommendations of 2017...
| | | | |
| --- | --- | --- | --- |
| Gold Dividend Stock | Share Price | Year-to-Date Performance | Dividend Yield (as of June 30) |
| DRDGOLD Ltd. (NYSE ADR: DRD) | $3.19 | -39.7% | 10.24% |
| Sibanye Gold Ltd. (NYSE ADR: SBGL) | $4.70 | -33.4% | 5.98% |
| Harmony Gold Mining Co. (NYSE ADR: HMY) | $1.62 | -26.7% | 4.56% |
| Gold Fields Limited (NYSE ADR: GFI) | $3.41 | +13.3% | 2.73% |
| Randgold Resources Ltd. (Nasdaq ADR: GOLD) | $87.68 | +14.9% | 1.89% |
| Franco Nevada Corp. (NYSE: FNV) | $72.39 | +21.1% | 1.27% |
| Royal Gold Inc. (Nasdaq: RGLD) | $76.85 | +21.3% | 1.25% |
| Eldorado Gold Corp. (NYSE: EGO) | $2.58 | -19.9% | 1.16% |
| Barrick Gold Corp. (NYSE: ABX) | $15.90 | -0.5% | 0.75% |
| Goldcorp Inc. (NYSE: GG) | $13.02 | -4.4% | 0.62% |
Six of the 10 gold stocks listed above have posted negative returns so far in 2017. The main reason behind their losses has to do with gold price volatility.
The volatile price of gold this year is due to the overall strengthening U.S. economy. When the economy is strong, investors buy more stock instead of stashing money in safe-haven investments like gold and gold stocks.
According to the U.S. Department of Labor (DoL), the U.S. unemployment rate fell from 4.4% in April to 4.3% in May. That was the lowest level since 2001. Also, the DoL reported 138,000 jobs were added last month - a 1.6% increase from May 2016. That labor market strength was enough to allow the U.S. Federal Reserve to hike interest rates three times this year.
The strengthening economy and Fed rate hikes have led to three different gold price slumps and rebounds this year.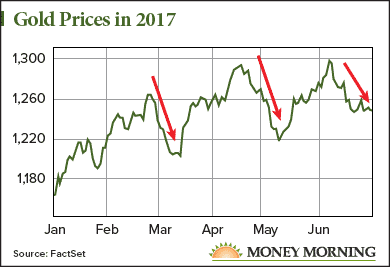 The first slump started in February. The price of gold started 2017 off with a 9.3% rally up until its Feb. 27 peak. But it fell 4.6%, from $1,259 to $1,201 on March 15, as investors prepared for the first interest rate hike of the year.
Looming rate hikes often pull gold prices lower because higher interest rates boost the U.S. dollar, which lowers the demand of dollar-priced metals like gold to other currency users.
The second decline in gold prices was 6% from the April 18 peak of $1,294 to the May 9 bottom of $1,216. This loss was mostly due to the Dow Jones' steady 2.2% climb over the period, which softened investor interest in safe-haven gold. But the metal climbed 6.7% from that bottom to another peak of $1,298 on June 6.
Finally, the third noticeable gold price drop is happening right now. The most recent rate hike on June 14 has dragged prices 2.4% lower, from $1,276 on June 14, to $1,245 today (Friday, June 30).
But despite any volatility in gold prices so far this year, gold dividend stocks are still strong income investments. Nine of the 10 companies in the list above haven't cut their dividends in 2017. In fact, Gold Fields Limited actually raised its quarterly dividend by 66.7% from $0.03 per share to $0.05 in March.
Don't Miss: An incredibly rare gold anomaly is shaping up in the markets as we speak -- one that has occurred ONLY twice in the past 20 years. And it's about to happen again. Details here...
While we don't advise investing in just any gold stock with a generous dividend, one of the stocks listed above happens to be one of Money Morning Executive Editor Bill Patalon's favorite picks of the year. This company is one of the world's largest gold miners, and Thomson Reuters analysts predict its stock could rally as much as 69% in the next 12 months on top of its income-generating dividend.
Here's one of the best gold stocks to buy in 2017...
One of the Best Gold Dividend Stocks to Buy Could Climb 69% by June 2018
[mmpazkzone name="in-story" network="9794" site="307044" id="137008" type="4"]
Bill's pick for the best gold stock to buy in 2017 is Goldcorp Inc. (NYSE: GG), which offers a 0.62% yield and quarterly dividend of $0.02 per share.
Although that dividend yield is the lowest on the list, Goldcorp is set to make up for its small dividend with potentially 69% share price gains over the next year, according to Wall Street analysts.
You see, Goldcorp is the fourth-largest gold mining company in the world, boasting 10 active mines throughout Canada, Mexico, and South America. The company also has a low all-in sustaining cost (AISC) of $800 as of Q1 2017, meaning it only costs the firm $800 to mine for one ounce of gold. That's lower than the average $833 AISC across the top 17 gold mining companies.
If gold prices reach our bold price target of $1,400, Goldcorp's profit margin could be 75% by the end of the year at its current AISC level.
Bill - a 22-year market veteran who runs our exclusive Private Briefing investment service - consistently recommends investing in GG stock. While the company's AISC proves the firm operates efficiently, Bill particularly likes Goldcorp because it's a leading gold mining innovator, especially after its successful crowdsourcing experiment...
In March 2000, Goldcorp started the "Goldcorp Challenge" in which it asked the public to compete to find the best gold mining sites. The response was incredibly successful, with 80% of selected sites containing gold deposits.
"Over the next seven years, Goldcorp pulled $3 billion worth of gold out of the ground," Bill said, "and the whole thing turned Goldcorp from an afterthought, from an also-ran, into one of the leading gold miners in the world today."
The Goldcorp stock price sits near $13.02 per share. Analysts from Thomson Reuters say it could soar as much as 69% to $22 per share within the next 12 months.
The Bottom Line: Despite most of them trading in the red so far in 2017, gold stocks are reliable for their commitment to their dividend policy. That's why nine of the 10 listed companies have yet to cut their dividend in 2017 despite gold price volatility. Of the 10 listed stocks, we recommend investing in Goldcorp due to its low AISC of $800 and strong reputation as an innovator thanks to its crowdsourcing project.
Up Next: A completely unique gold play is forming in the markets. And it's so rare that it's only the third time in 20 years that it's happened. If you get in now, you could see a share of upwards of $13 billion in cash windfalls. Read more.