A penny stock "pump-and-dump" scam is when a company artificially inflates - or "pumps up" - their stock price. They do this by enlisting unscrupulous promotion firms to heavily advertise their stock to unwitting investors through brochures, emails, cold calls, and other methods.
Video
The 3 Best Strategies for Trading Penny Stocks Today
Once enough investors bite and the stock price is inflated, company insiders will sell off - or "dump" - all of their shares for massive profits, which causes the stock price to plummet and leaves investors with massive losses.
One of the most controversial pump-and-dump scams happened 12 years ago, and it was indirectly linked to our current president. Here's how that pump-and-dump scam worked, plus how to avoid scams like it and profit from small-cap stocks...
This Penny Stock Pump and Dump Had Indirect Ties to Donald Trump
In 2005, there was a pump-and-dump scam involving a short-lived publication called "Trump Magazine."
It primarily involved a publishing company called Premiere Publishing Group Ltd., which paid Donald Trump licensing fees of up to $850,000 to develop Trump Magazine and distribute it to Trump real estate properties. Eventually, the magazine began circulating at regular newsstands and rose to a quarterly circulation of around 200,000.
Despite rising circulation, Trump Magazine endured financial troubles for most of its publication history. Those mainly stemmed from dramatic increases in Trump's licensing fees, which jumped 12.5% from $120,000 in 2005 to $135,000 in 2006.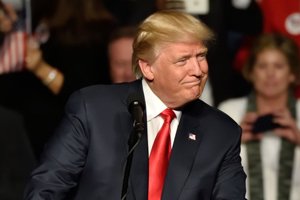 But Premiere decided to ignore its mounting losses and hold an initial public offering (IPO) in 2006. The firm pumped the value of the stock by cold-calling random people and publishing newsletters falsely asserting that Premiere had a Trump cartoon in the works with Walt Disney Co. (NYSE: DIS). According to the news magazine Fusion, one of the company's pump-and-dump newsletters promised Premiere investors returns of 500% or higher.
In August 2006, Premiere Publishing Group stock (OTCBB: PPBL) debuted at roughly $1 a share. By September, the stock had sold off and was trading at $0.50 per share. And after Premiere's first earnings report was released in July 2007, the stock crashed to mere pennies. This mainly happened because the firm reported an absurdly small $735 worth of cash reserves.
The Best Pot Stocks: After months of research, we've found the most lucrative and fastest-growing legal pot stocks in America. And for a limited time, you can get all the details for free. Learn more...
By August 2007, Trump ended his licensing agreement with the magazine, and Premiere Publishing went bankrupt. It had hemorrhaged $7 million in just one year on the stock market.
Needless to say, anyone who bought PPBL stock lost all of their investment. For example, Wade Cartwright, a 77-year-old doctor from California at the time, was a victim of the pump-and-dump scam. He bought $100,000 worth of PPBL stock after talking with a promoter and lost all of it.
"[A very friendly broker] said he had something that was very good," Cartwright told Fusion. "I lost every cent."
Despite hearing about penny stock pump-and-dump scams like this, not every penny stock is dangerous. You just have to do your homework and research the company's financials, including digging into 10-K filings and quarterly earnings reports. These will tell you if penny stocks are fraudulent or not.
But Money Morning Small-Cap Specialist Sid Riggs likes to do the research for you. He recently found a small-cap company that has crushed analyst expectations four quarters in a row. In fact, it's beaten analyst earnings estimates by an average of 57.6% over those four quarters. This is a huge indication that the stock is undervalued by Wall Street right now.
Here's one of the best small-cap stocks to buy in 2017...
One of the Best Small-Cap Stocks to Invest in This Year