(Kitco News) – World stock markets were mostly lower overnight. U.S. stock indexes are pointed toward lower openings when the New York day session begins.
World bond market yields are on the rise again this week, on concerns about tighter monetary policies from the world's major central banks. Tuesday's release of the latest minutes from the FOMC's June meeting contained no big surprises, but still showed a Federal Reserve that wants to reduce its big balance sheet of government securities. The European Central Bank releases its latest meeting minutes today.
Gold prices are modestly higher in pre-U.S. day session trading, on some mild safe-haven demand and short covering from recent selling pressure.
World geopolitics is back close to the front burner of the marketplace this week. North Korea says it has an intercontinental ballistic missile that the regime says can reach anywhere in the world. President Trump says he will deal with the North Koreans but so far has not done much. Trump and Russian President Vladimir Putin meet face-to-face for the first time later this week.
The key U.S. report of the day is the ADP national employment report for June, which is a precursor to the more important Labor Department Employment report that comes out on Friday morning. Both reports are expected to show an increase in their jobs numbers of 175,000 to 180,000 in June.
The key "outside markets" on Thursday morning see Nymex crude oil futures prices higher on a corrective bounce from Wednesday's solid losses. The oil market bears are back in firm near-term technical control. Meantime, the U.S. dollar index is weaker early today. The greenback bears also have the firm overall near-term technical advantage.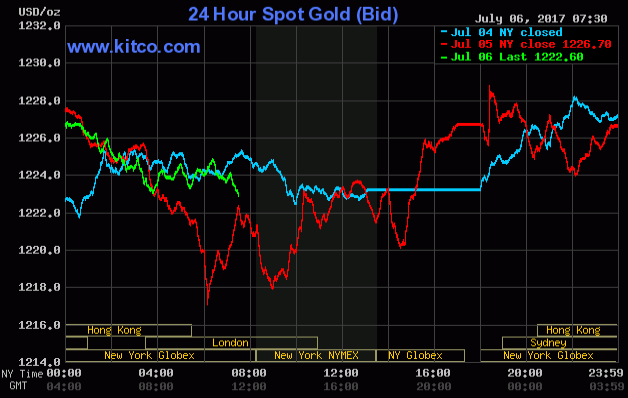 U.S. economic data due for release Thursday includes the weekly jobless claims report, the ADP national employment report, the Challenger job-cuts report, the international trade report, the U.S. services PMI, the global services PMI, the ISM non-manufacturing report on business and the weekly DOE liquid energy stocks report.
By Jim Wyckoff, contributing to Kitco News; jwyckoff@kitco.com
Follow Jim Wyckoff @jimwyckoff for breaking news.