(Kitco News) – World stock markets were mostly lower overnight as the marketplace reality sets in that there will be less accommodative monetary policies from the world's major central banks-after nearly a decade of easy-money initiatives.
Higher world government bond market yields this week are also bearish for the global equities markets. U.S. stock indexes are pointed toward narrowly mixed openings when the New York day session begins.
Gold prices are weaker in pre-U.S. session trading. Bearish near-term charts are keeping the sellers confident.
What is arguably the most important U.S. economic report of the month is out this morning: the Labor Department's employment situation report for June.
The key non-farm payrolls number is forecast to come in at up around 175,000. Thursday's precursor jobs data, the June ADP national employment report, showed a jobs number of up 158,000, which was a slight miss to the downside of market expectations.
Trading in many markets could become active in the immediate aftermath of this morning's U.S. jobs report-especially if it's a miss from market expectations.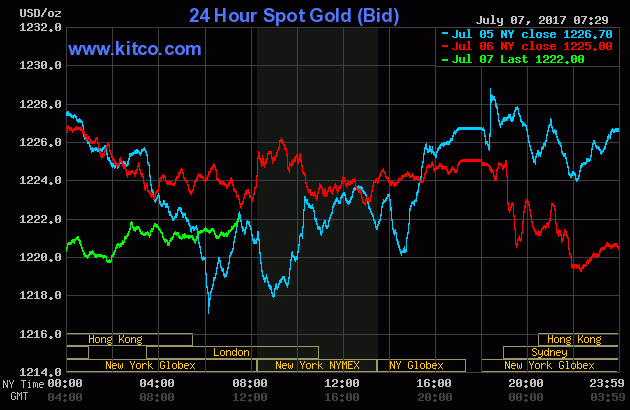 The key "outside markets" early Friday morning see Nymex crude oil futures prices solidly lower and trading just above $45.00 a barrel. The oil market bears are in firm near-term technical control. Meantime, the U.S. dollar index is firmer early today. The greenback bears still have the firm overall near-term technical advantage.
By Jim Wyckoff, contributing to Kitco News; jwyckoff@kitco.com