Gold prices have kept falling this week, with the metal on track for a 2.6% decline to $1,210 since Friday, June 30. This comes after posting a 1.1% drop the previous week (June 23-30).
The changing value of the dollar has hurt the price of gold. The 200-basis-point sell-off in the U.S. Dollar Index (DXY) from June 26 to June 29 took the greenback into oversold territory. That meant a relief rally for the dollar was likely, and when it arrived this week, it naturally hit gold prices hard.
As we know, a stronger dollar is bad for gold prices. Since gold is priced in dollars, any strength in the currency makes the metal more expensive to users of other currencies. This reduces demand and lowers gold prices.
But with a quick return to bear mode, I think gold may have finally reached its bottom by now.
This week's activity has all the signs of a capitulation sell-off – an indicator that everyone who wanted to sell their gold positions has done so by now. With most of the selling behavior finished with, prices have nowhere to go but up.
But investors still fear that the price of gold could go even lower. While that's certainly possible in the short term, I expect it to make a 15.7% rebound through the end of Q4 2017.
Before I tell why I'm so bullish on gold prices, let's look more closely at gold's volatile week…
Gold Prices Are Set for a 2.6% Weekly Drop (June 30 – July 7)
After settling at $1,241 on Friday, June 30, the gold price opened lower on Monday, July 3, at $1,233. It quickly sank to $1,222 in morning trading and eventually closed the session at $1,220 for a 1.7% decline.
Tuesday brought a small relief rally, even as the DXY headed a little higher. The price of gold opened at $1,225, but gave back a little on the shorter holiday trading schedule, ending early at $1,223 for 0.2% gain.
Here's how the DXY has trended this past week…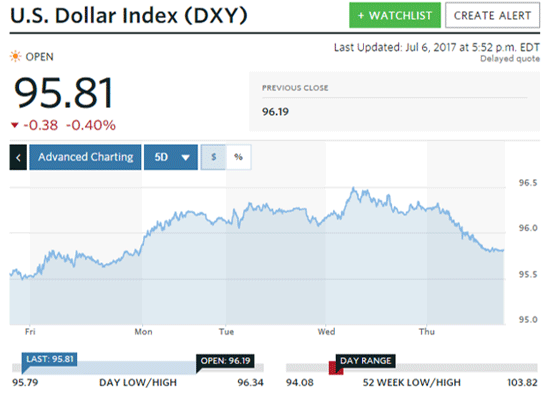 On Wednesday, July 5, as the DXY mustered another leg higher to peak at 96.50, the gold price started lower at $1,221. From there, it bounced back as the DXY retreated, and the metal managed a meager 0.3% gain to $1,227.
Even as the DXY stayed in retreat mode on Thursday, the price of gold managed to consolidate sideways. It opened lower again at $1,225 and by the close maintained that level for a 0.2% loss on the day.
And as of this writing, the gold price today (Friday, July 7) is down another 1.2% and trading at $1,210. If it closes at this level, gold will post a weekly decline of 2.6%.
Trending: The 4 Best Silver Investments to Make in 2017
With all of this week's volatility, what is it about the recent gold price performance that justifies my bullish 15.7% predicted price gain?
Here are the technical factors that indicate a rebound for the price of gold in 2017…
Why I Expect the Gold Price to Rise 15.7% Through the Rest of 2017
Join the conversation. Click here to jump to comments…
About the Author
Peter Krauth is the Resource Specialist for Money Map Press and has contributed some of the most popular and highly regarded investing articles on Money Morning. Peter is headquartered in resource-rich Canada, but he travels around the world to dig up the very best profit opportunity, whether it's in gold, silver, oil, coal, or even potash.