The silver price news investors are watching today (Friday, July 7) is the metal's sharp drop to its lowest level of 2017, and we think this presents a buying opportunity for silver…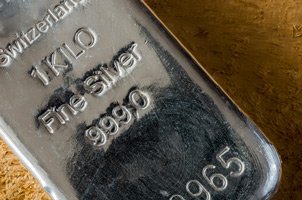 Silver prices today are down 1.3% and trading at $15.77 per ounce. The last time silver closed below that level was on Dec. 23, 2016, when it settled at $15.76. If it closes at $15.77 today, the price of silver will post a weekly decline of 4.8%.
Here's why prices are falling today and why we are bullish on the metal for the rest of 2017…
This Silver Price News Has Dragged the Metal to a 2017 Low Today
The primary factor fueling the decline in the silver price today is the consensus-beating June jobs report released this morning.
The U.S. Department of Labor reported that 222,000 new jobs were created in June, beating economists' expectations of 180,000 by 23.3%. It was the largest job gain since employers added 235,000 jobs in February.
For reference, this chart shows monthly jobs growth since January 2016…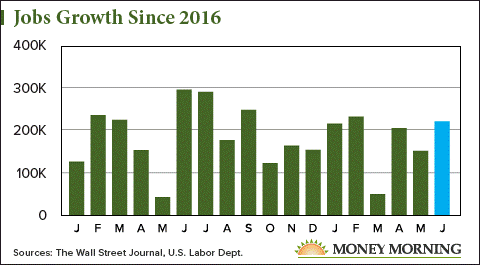 June's pace of hiring also marked a 60.9% increase from the 138,000 jobs added in May. But the June unemployment rate jumped from a 16-year low of 4.3% in May to 4.4% in June.
Despite the unemployment rate edging higher, the strong jobs creation bolsters the chances of another U.S. Federal Reserve interest rate hike by the end of 2017.
After all, strong economic data, like increased jobs growth, could incentivize the Fed to raise interest rates from their current 1%-1.25% range.
Interest rate hikes often push silver prices down in the short term, but higher interest rates support higher silver prices over the long term. That's why we're bullish on the metal right now.
Rate hikes lift the U.S. dollar, which lowers silver demand for users of other currencies, dragging down the price of silver. This is happening today as the U.S. Dollar Index (DXY) – which measures the dollar against several other currencies like the euro – is up 32 basis points, from 95.80 to 96.12.
Trending: The Ultimate Guide for Silver and Gold Investors in 2017 – Free
But over the long term, rising interest rates can actually boost silver prices. That's why we think today's silver price decline offers investors a great opportunity to buy in at a discount. According to Money Morning Resource Specialist Peter Krauth's 2017 silver price forecast, the metal could rally as much as 39.5% to $22 by the end of 2017.
And this chart shows why rate hikes can make silver extremely profitable over the course of months and years…
Why Fed Rate Hikes Could Send the Silver Price to Our Bold Target