(Kitco   News) –
World stock markets were mostly higher overnight, amid generally optimistic trader and investor attitudes to start the trading week.
The just-completed G-20 meeting in Germany did not produce any fireworks, and that is helping to keep buying interest in world equities keen. U.S. stock indexes are also pointed toward firmer openings when the New York day session begins.
Gold prices are weaker and hit a nearly four-month low overnight, on a lack of risk aversion in the marketplace at present. Gold prices are in a steep five-week-old downtrend on the daily bar chart and bears have the near-term technical advantage.
In overnight news, China's producer price inflation was unchanged in June from May, at up 5.5%, year-on-year. Consumer prices were up 1.5% in the same time period.
The key "outside markets" early Monday morning see Nymex crude oil futures lower and trading below $44.00 a barrel. The oil market bears are in firm near-term technical control. Meantime, the U.S. dollar index is modestly up early today.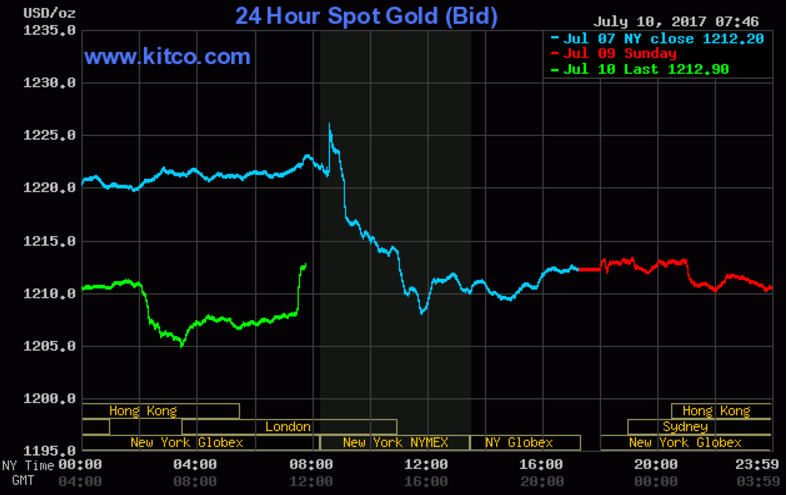 U.S. economic data due for release today is light and includes the employment trends index. The report pace picks up Wednesday through the end of the week, including Fed Chair Janet Yellen speaking to the U.S. Congress on the Fed's monetary policy.
By Jim Wyckoff, contributing  to Kitco News; jwyckoff@kitco.com
Follow Jim Wyckoff @jimwyckoff for breaking news.