Prepaid cards like Wal-Mart's Bluebird card have helped millions of Americans forgo banks and credit cards – but there's a catch.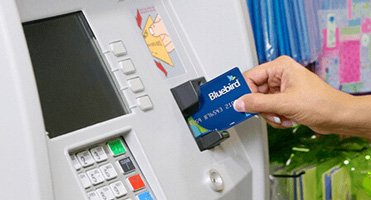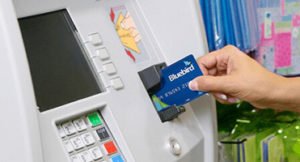 Prepaid cards are becoming increasingly popular in the United States. According to the Nilson Report, the leading publication on the payment card industry, the amount of money spent using prepaid cards in the U.S. jumped from $9 billion to $152 billion between 2002 and 2012. That's almost a 17-fold increase.
Prepaid card use grew nine times faster than credit card use over the same period.
Since then, the money spent using prepaid cards has nearly doubled, as big players like Wal-Mart Stores Inc. (NYSE: WMT) and American Express Co. (NYSE: AXP) have entered the game with the prepaid Bluebird card.
But the introduction of these corporations into the growing prepaid card market could be dangerous to the people who rely on prepaid cards to spend money, and they don't even realize it…
Millions of Americans Are Trusting Wal-Mart with Their Money
In 2015, 27% of Americans either didn't have bank accounts or supplemented their banking with other financial services, according to The Wall Street Journal reporting FDIC data on Sept. 17, 2016.
In other words, over a quarter of Americans either don't want to deal with banks regularly, or can't.
That's where prepaid cards come in.
According to a 2013 report by the Federal Reserve Bank of Boston, 45% of Americans without checking accounts use prepaid cards. For these 11 million Americans, these cards are a lifeline with which they can deposit their paychecks, withdraw money from an ATM, and shop online without using a bank.
Furthermore, prepaid card use among Americans with household incomes under $25,000 has reached 49%. In other words, nearly half of low-income Americans rely on these cards to keep their money safe.
If any prepaid card isn't covered by a bank, no one should use them, ever.
But here's the problem: Because the issuers of these cards – like Wal-Mart – aren't typically banks, the cards may not be FDIC-insured.
That means if the companies supporting these cards were to go under, cardholders could lose all the funds on their cards, as well as their primary means of receiving, spending, and saving money.
Wal-Mart's Bluebird card wasn't even FDIC-insured until March 2013 – six months after it was first released. Had Wal-Mart or American Express gone under in that time, Bluebird cardholders could have lost everything.
Must See: Marijuana stocks are seeing triple-digit gains, and the next wave of wealth is coming. Learn how you could turn a small $100 stake into a fortune. Read more…
The danger doesn't stop at insurance. Wal-Mart and other prepaid card issuers have enjoyed all sorts of freedom from regulation, even though millions of Americans rely heavily on them for their financial needs.
Money Morning Capital Wave Strategist Shah Gilani pointed out these problems over four years ago.
"People who buy prepaid cards don't get any interest on what are essentially 'deposits,'" he explained in December 2012. "Meantime, the 'sponsors' of these cards are collecting your money and banking it in FDIC-insured banks before you spend it. Or maybe they're investing it to make an interest rate spread somewhere, or speculating with it to make huge profits for themselves. There's nothing stopping them, really."
In other words, companies are playing with $300 billion of consumers' money to make a profit – and the cardholders aren't seeing a cent of it.
Add to that the lack of regulation for disclosing fees, resolving disputes, and handling the loss or theft of a card. And now remember that this is a $300 billion industry that millions of low-income Americans rely on as the only means of accessing their money.
Yeah – it's pretty bad.
But as long as this powder keg doesn't explode before April 1, 2018, prepaid cardholders could be OK. Here's why…