Traders and investors love when things play out according to plan – when everything moves along in a "normal" way.
Well, that's a no-brainer, but what's often less clear to folks is: What exactly does "normal" look like?
Look at the four major U.S. indexes: The 30 blue chips of the Dow Jones Industrial Average, the big, broad S&P 500, the tech-centric Nasdaq Composite, and the dynamic small caps of the Russell 2000.
There's normally a distinct rhythm playing out; certain indexes move to extremes when certain themes predominate, and understanding where the money is moving among the "Big Four" is key to staying ahead of profit potential.
"Risk On, Risk Off, Risk On, Risk Off"
At one end, we have the most volatile – which is to say, riskiest – indexes. The Russell 2000 and the Nasdaq hold down this end of the scale.
Historically, when the stock market is moving up, these two indexes move up the fastest. And when the market turns down, these two drop the fastest. This is why the pros refer to them as the "Risk On" indexes.
On the other end, we have the Dow – the least volatile, least risky of the four big indexes. It's narrow, blue-chip composition means it runs up more leisurely in bull markets and drops less quickly when the bears run. So it's a "Risk Off" index.
In between these extremes, we have the benchmark S&P 500 index. The "Goldilocks Index," not too hot, not too cold, not too volatile, not too flat. Right in the middle. It's made up of 505 stocks issued by – you guessed it – the 500 biggest companies trading on the U.S. exchanges. Close to 80% of the equity market by capitalization lives here.
So, now that we know how the indexes "want" to behave, we can say that, as far as the markets are concerned, things have been going pretty much according to plan – just like I predicted.
Except for one thing: Recently, the Russell 2000 has been consistently lagging in performance in the strong "up market."
Here's what that means…
You see, the Nasdaq and the Russell 2000 are the two "go-to" indexes for bull markets.
When one is clearly stronger than the other, it's typical for money to rotate out of one to the other – which is exactly what happened in the first half of 2017.
While the Nasdaq charged ahead, the smart money flooded into that index, leaving its Risk On cousin in the dust.
We can see this action, along with the other traditional Risk On behavior, in this chart…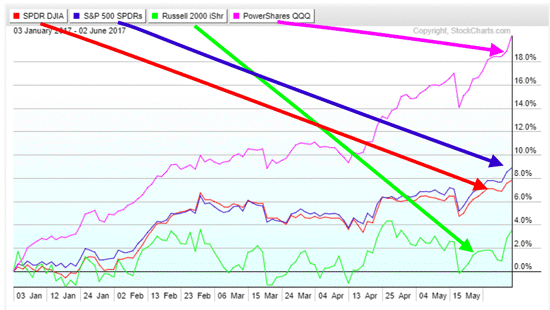 Then things got a little weird.
Join the conversation. Click here to jump to comments…
About the Author
Nationally recognized technical trader. Background in  engineering, system designs, and risk reduction. 26 years in the markets.