Signed on June 10 and effective as of July 1, new Colorado marijuana laws could increase revenue for cannabis dispensaries in the state. The new law will help dispensaries stock more products, keep shelves full, and increase inventory variety.
With those additions, Colorado could eclipse its $1.3 billion in recreational and medical marijuana sales from 2016.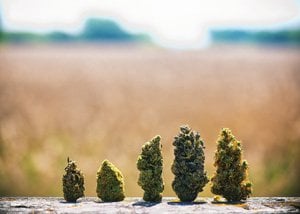 Under Colorado House Bill 16-1211, cannabis couriers and distributors are now allowed (as of July 1) to store cannabis inventory in third-party locations. It also provides the couriers and distributors more time to ship marijuana products.
Before the law took effect, marijuana distributors had to deliver products directly to a dispensary within 24 hours. Any transfer that took longer than 24 hours was in violation of the old state laws, and the products would have to be returned.
According to a June 10 WestWorld.com interview with Pat Duddy, founder of cannabis distributor Green Parcel Service, it can take up to seven hours for a one-way trip from Denver to some small Colorado towns for marijuana delivery companies.
Now, the new Colorado cannabis laws allow companies with medical and retail marijuana transfer licenses seven days to transport cannabis products to marijuana businesses in Colorado.
BREAKING: New Legislation Could Turn Tiny Pot Stocks into Millions. Click Here…
There aren't any official projections on how this new law could increase cannabis sales in Colorado dispensaries. However, to get a first-hand account of what this new law means for dispensary operators, I sought the expertise of Sally Vander Veer, the president of Medicine Man, the largest marijuana dispensary in Denver.
"Although the new distribution law will not directly impact our flower transport since we primarily produce flowers for our own stores, I am excited about the opportunities for new business in the cannabis space and of course for more jobs," Vander Veer said on July 10.
"A distribution model will greatly help to keep our concentrate, edible, and topical dispensary stocks robust and will hopefully allow Medicine Man to carry some fabulous new brands from all parts of the state which previously were too hard to procure because of travel distance.
"As always, the more the cannabis business model mirrors that of traditional consumer products, the better for the entire industry."
We are keeping a close eye on any developments in the United States that would affect investments in cannabis stocks.
Video
Which States Will Legalize Marijuana Next?" Stock
And we're also closely watching our neighbors to the north, as marijuana is set to be completely legalized across all of Canada in July 2018…
Canada Could Send Marijuana Stock Prices Skyrocketing
In an exclusive interview, Money Morning Director of Technology & Venture Capital Research (and pot stock expert) Michael A. Robinson shared details about five tiny weed stocks that could potentially turn a small stake into $100,000.
And before we show you how to access his report, we want to make sure Money Morning readers know more about Robinson.