Natural gas just claimed another victory over clean coal, as Southern Co. (NYSE: SO) announced on June 28 it's converting its failed $7.1 billion clean coal power plant into a natural gas-fired facility.
And that's just part of a larger industry shift away from coal that investors can profit from right now...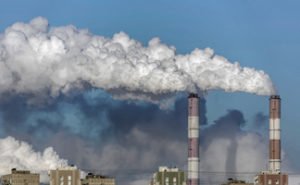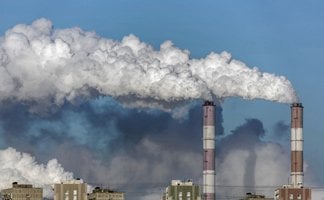 We told Money Morning readers about Southern Company's $7.1 billion mistake back in February. At the time, the coal plant was already $5.3 billion over budget and four years behind schedule.
Southern Company's disaster shouldn't have come as a surprise. Coal made up 50% of all electricity production in 2007. Now it's fallen to just 30%, while natural gas has overtaken it with 31%.
This Could Make Big Oil Obsolete: One gallon of this new fuel could produce enough energy to power a car for 42,325 miles. It's being hailed by many experts as energy's "Holy Grail." Read more...
We'll show you why natural gas is now king and why the trend that ended Southern Company's plan could result in you banking 70% gains...
Even Clean Coal Can't Beat Natural Gas
Coal production has dropped 37% over the last decade, while natural gas production rose 45% in the same time. There are two crucial reasons why natural gas is better than coal now.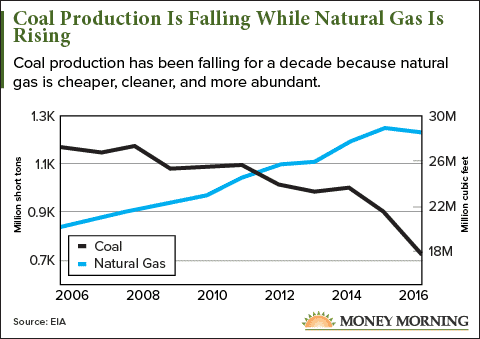 First, creating a new power plant using natural gas is cheaper than using coal.
The U.S. Energy Information Administration estimates coal will double the cost of natural gas as a fuel for new electricity generation in 2022.
The minimum levelized cost for a clean coal plant going online in 2022 will be $102.7 per megawatt hour. The minimum cost for a natural gas-fired plant will be $51.6 per megawatt hour.
Natural gas is much cheaper for electricity generation because it's easier to transport and hook up at a power plant. Natural gas can be piped directly to the plant and requires no additional processing to turn into fuel.
Coal, on the other hand, must be delivered by train or truck. Once coal is burned for power, the ash remnants have to be cleaned up and transported away.
And for clean coal plants, the technology used to capture carbon emissions is expensive to install and is still considered an "unproven technology."
Trending: The Best Stocks to Buy (and When to Sell) for Mega-Profits in 2017
Southern Company's inability to make its carbon capture technology work was a contributing reason behind scrapping coal altogether. According to a June 28 New York Times story, Southern Company's carbon capture technology "never worked as designed" despite three years of trying.
On top of the unreliable technology needed to make coal clean, natural gas has become more abundant, and cheaper, over the last decade...
Second, natural gas is more abundant than ever thanks to fracking.
Hydraulic fracturing, or fracking, allows companies to access natural gas deposits in underground shale formations that were previously unrecoverable. The process injects a combination of water and chemicals into shale deposits to expand the rock formations and allow natural gas to escape.
Natural gas production began to soar starting in 2008 when fracking opened up the Marcellus shale play - the largest natural gas deposit in the United States with 141 trillion cubic feet of recoverable gas. Between 2005 and 2015, natural gas produced from shale skyrocketed by over 500% thanks to fracking.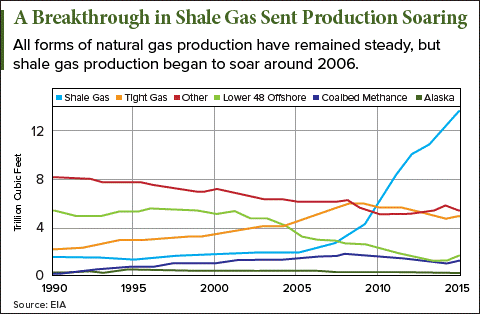 The abundance of natural gas makes it easier than ever for electricity-generating plants to get access to the fuel, and it's made natural gas cheaper too. That's another reason Southern Company's clean coal plant is switching to natural gas even though it sits adjacent to a coal mine.
Natural gas prices have plummeted 69% since 2008, when fracking became popular.
Southern Company's failed attempt to make coal work is a warning sign to investors that coal isn't coming back. But natural gas' boom is a profit opportunity for investors.
In fact, we've found an energy stock that lets you profit from the transition from coal to natural gas.
And Wall Street analysts project this stock's share price could rise 69% over the next 12 months...
The Best Stock to Buy to Profit from the End of Clean Coal
[mmpazkzone name="in-story" network="9794" site="307044" id="137008" type="4"]
CONSOL Energy Inc. (NYSE: CNX) was primarily a coal company up until natural gas started to take over in 2008.
CONSOL Energy's history with coal dates all the way back to the Civil War, when the company was originally founded to mine Maryland coal. But CNX realized coal wasn't coming back and started to sell its coal mines for natural gas assets. Since 2016, natural gas has made up 51% of CONSOL's commodity earnings, and it can now be called a natural gas company.
The company is continuing to sell off its coal assets to buy into natural gas production. On June 27, CONSOL sold off its Virginia coal mine for $420 million.
Money Morning Global Energy Strategist Dr. Kent Moors says one of the biggest upsides for CNX is it continues to sell off its "loss-making coal business" and invest in its natural gas business. CONSOL is now exporting its natural gas to Europe, where gas prices are even higher.
"That means there's plenty of upside left for the company," Moors said.
As natural gas continues to replace coal, CNX will reap the benefits. The CNX share price has jumped 122% since this time last year, as natural gas prices ballooned over 40%.
"CONSOL could see a similar rise again this year," predicts Moors, especially now that the company has continued to move away from coal.
Wall Street analysts agree, and they are predicting CNX's share price could jump up to 69% this year alone.
CNX currently trades at $15.38 a share.
The Bottom Line: Natural gas is overtaking coal as the fuel of choice for new power plants. Southern Company's last-ditch effort to make coal work was an expensive failure that's now being turned into natural gas plant. But investors can profit from this energy transition by owning CONSOL Energy stock, which was a coal company that transitioned into the natural gas industry.
Up Next: One gallon of this new "crystal fuel" could get you from New York to L.A. and back... seven times! Being hailed by many experts as energy's "Holy Grail," it's 1,693 times more powerful than the gasoline that runs your car. The mainstream investment media isn't even talking about it yet. Read more...
Follow Money Morning on Twitter @moneymorning, Facebook, and LinkedIn.