Our latest list of stocks to watch now includes picks from three different sectors:
First, a computer chip supply company is on the rise.
Then, a healthcare powerhouse boosts its portfolio.
And finally, a dying retailer's hot streak goes cold.
Stocks to Watch Now No. 1: If You Followed This Recommendation in June, You're Already Seeing Returns
Integrated circuit supplier Lam Research Corp. (Nasdaq: LRCX) is heating up. The California-based tech company is up 7.4% in the last week and more than 10% since July 3. Shares are up 23.4% in the last three months, compared to 5.1% for the S&P 500.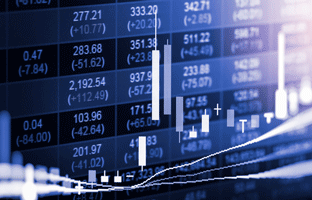 Last week, Morgan Stanley raised its price target for Lam from $135 to $168 ahead of SEMICON West, an annual semiconductor technology trade show held in San Francisco from July 11-13.
Lam Research provides wafer fabrication equipment and services to the semiconductor industry. Its products help businesses build faster, more powerful, and more efficient electronic devices.
Money Morning Director of Technology & Venture Capital Research Michael Robinson singled out the company on June 29 as a great play to cash in on the technology race between the United States and China.
In June, the U.S. Department of Energy announced $258 million in grant money to American tech companies in an effort to reclaim the top spot in chip technology.
Will it work? It doesn't matter. With a strong presence in both the U.S. and China, Lam Research stands to gain from the competition no matter how it turns out.
Michael calls Lam a "great foundational holding," and the investing world is definitely catching on. "With this play," Michael writes, "you'll tap the power of the global chip boom with a quality that will hand you returns for years to come."
Stocks to Watch No. 2: This Pharma Company Is Adding to an Already Impressive Portfolio
France's largest pharmaceutical company announced Tuesday that it would acquire Connecticut-based vaccines biotechnology firm Protein Sciences. Sanofi SA (NYSE ADR: SNY) will pay $650 million up front, with up to $100 million added if certain milestones are met.
Protein Sciences brings its influenza vaccine Flublok to the deal. Approved by the U.S. Food and Drug Administration (FDA) in October, Flublok is the only flu vaccine that doesn't use eggs, antibiotics, or live influenza virus in the manufacturing process.
The deal is expected to close at the end of the third quarter.
Just before the deal, Sanofi along with its partner Alnylam Pharmaceuticals Inc. (Nasdaq: ALNY) announced the beginning of phase 3 trials for fitusiran, an RNAi drug to treat patients with hemophilia A and B. The announcement came after positive results from a phase 2 study. This development bolsters a Sanofi pipeline that already had 13 drugs that are in phase 3 trials or have been submitted to regulatory authorities for approval.
Must See: Get $45,000 Worth of Our Best Stock Research for Just Pennies a Day. Read more…
That impressive pipeline is one of the reasons Michael Robinson recommended Sanofi to readers in April. Another reason is Dupixent, Sanofi's new eczema drug approved by the FDA in March. Developed in partnership with Regeneron Pharmaceuticals Inc. (Nasdaq: REGN), Dupixent is the world's first injectable eczema treatment and avoids the cancerous side effects of topical calcineurin inhibitors (TCIs) often prescribed for eczema. Research firm EvaluatePharma puts expected sales of Dupixent at $4.2 billion by 2022.
"This company's best days are clearly (just) ahead of it," Michael writes, "so this is a great time to buy at market."
Sanofi is up 20.5% in 2017 so far. It's up 4.7% since Michael recommended it, compared to 2.6% for the S&P 500.
Stocks to Watch No. 3: When It Comes to the Retail Ice Age, We Hate to Say We Told You So
When we last looked at Sears Holdings Corp. (Nasdaq: SHLD) in late June, shares were up 13.5% over the previous week. We told readers then not to hop on the bandwagon: "There is little reason to get excited about this dying company."
It didn't take long for Sears to come falling back down.
The retailer has dropped 12.7% in the last 10 days, standing at $8.02 as of Thursday afternoon. That might have something to do with last Friday's announcement that the company would be closing 35 more Kmart stores and eight more Sears stores. That announcement came less than a month after the announcement of 20 store closures in June. Sears began the year by announcing 108 Kmart closings and 42 Sears closings.
On Saturday, Business Insider posted photos of a Sears in Glen Allen, Va. The images were embarrassing: empty window displays, unstocked shelves and floor space, merchandise in disarray, and even curtains to hide empty areas of the store.
Announcing Friday's closures, CEO Eddie Lampert spoke of "transforming" the company. But all signs suggest that Sears is an unmitigated disaster. Revenue has declined 44% since 2012. Total assets have declined 47% in the last four years, while long-term debt has risen 122%. The "substantial doubt" that Sears can continue is rapidly turning into a near-certain bankruptcy.
The decline of Sears is part of the ongoing "Retail Ice Age," which Money Morning Chief Investment Strategist Keith Fitz-Gerald said in June is an "extinction-level event."
Keith called for readers to short Sears in January 2015. The stock is down 75% since then.
For those following along with our Money Morning Top 10 Outperformers, here's the latest list: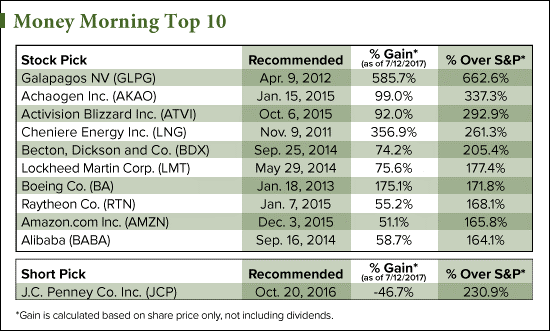 Turn a Small Stake into a Fortune: A new earth-shattering government announcement could completely change the legalization of marijuana – forever. In fact, thanks to this historic legislation, tiny pot stocks trading for under $5 are getting set to double, triple, or quadruple. In an exclusive interview with Money Morning, pot stock expert Michael Robinson shares all the good news – including details on five tiny weed stocks that could potentially turn a small stake into $100,000. Click here to continue.
Follow Money Morning on Twitter @moneymorning, Facebook, and LinkedIn.
Join the conversation. Click here to jump to comments…
About the Author
Stephen Mack has been writing about economics and finance since 2011. He contributed material for the best-selling books Aftershock and The Aftershock Investor. He lives in Baltimore, Maryland.