This list shows the top marijuana penny stocks by total return for July so far, according to data compiled by FactSet. While these stocks are up on the month, Canada is getting ready to legalize marijuana, and we know just which pot stocks will profit from the potential 400% industry growth next year...
| | | |
| --- | --- | --- |
| Marijuana Penny Stock | Current Stock Price | July 2017 Return (as of July 13) |
| Green Energy Management Services Holdings Inc. (OTCMKTS: GRMS) | $0.01 | +400% |
| CLS Holdings USA Inc. (OTCMKTS: CLSH) | $0.41 | +310% |
| Dewmar International BMC Inc. (OTCMKTS: DEWM) | $0.01 | +33.8% |
| TechCare Corp. (OTCMKTS: TECR) | $0.60 | +20% |
| Canadian Cannabis Corp. (OTCMKTS: CCAN) | $0.18 | +20% |
| Immune Therapeutics Inc. (OTCMKTS: IMUN) | $0.06 | +20% |
| OXIS International Inc. (OTCMKTS: OXIS) | $0.02 | +11.8% |
| Praetorian Property Inc. (OTCMKTS: PRRE) | $1.30 | +11.1% |
| Easton Pharmaceuticals Inc. (OTCMKTS: EAPH) | $0.02 | +10.5% |
Trending: This Penny Stock Will Double Your Money - and Save a Dying Industry
While this list shows the top-performing penny stocks in the marijuana sector this month, we don't recommend investing in any of them. That's because they're volatile, with most trading under $0.50 per share.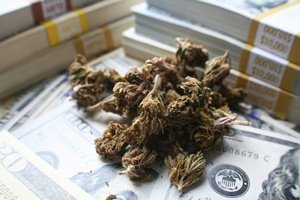 Sign up for SMS so you never miss special events, exclusive offers, and weekly bonus trades.
Also, since marijuana remains illegal under federal U.S. law, most
marijuana stocks
don't trade on federally regulated market exchanges like the New York Stock Exchange (NYSE) or Nasdaq. That's why these companies trade on over-the-counter (OTC) exchanges, which are based heavily on trader speculation rather than financial health reflected in quarterly earnings reports and other SEC filings.
You see, since these companies trade over the counter, they don't have to report their revenue, profits, and other financials to the SEC each quarter. This is a red flag for us here at Money Morning because we always advise readers to examine a company's finances to make sure it's not a shell company trying to scam you.
But it is possible to find well-managed companies with profit potential in the marijuana penny stock sector. You just have to know how to find them.
When it comes to finding the best marijuana penny stocks to buy, Money Morning Director of Technology & Venture Capital Research Michael A. Robinson is an expert. One of his marijuana stock picks has handed investors a 50.6% return so far this year, and he expects it to keep giving Money Morning readers profits in 2017.
In fact, he recently released a time-sensitive briefing detailing how the stock in question - as well as four other cannabis stocks - could soar thanks to Canada's new plan to legalize pot on July 1, 2018.
Here's how you can get your hands on Michael's urgent report before these five stocks skyrocket from Canada's legalization, which could lead to upwards of $4.5 billion in marijuana sales by 2021...
Everything You Need to Know About These 5 Marijuana Stocks