(Kitco News) – World stock markets were mixed in quieter trading overnight, as the world markets awaited the readings on a heavy batch of U.S. economic reports due out Friday morning. There are also some earnings reports from big U.S. financial institutions due out today. U.S. stock indexes are pointed toward slightly lower openings when the New York day session begins.
Gold prices are trading firmer in pre-U.S. session trading. While prices are still in a near-term downtrend, the gold bulls this week were able to at least temporarily stop the downside bleeding in their market.
It is indeed a very busy say for important U.S. economic data Friday. The consumer price index is a headline report. CPI is expected to come in at up 0.1% in June from May. Retail sales data will also be closely scrutinized.
Sales in June are seen up 0.1% from May. Also out are industrial production and capacity utilization, manufacturing and trade inventories and the University of Michigan consumer sentiment survey.
The "outside markets" on Friday morning see Nymex crude oil futures firmer and trading above $46.00 a barrel. The oil market bulls have had a good week. A technically bullish weekly high close in Nymex crude oil Friday would suggest a market bottom is in place.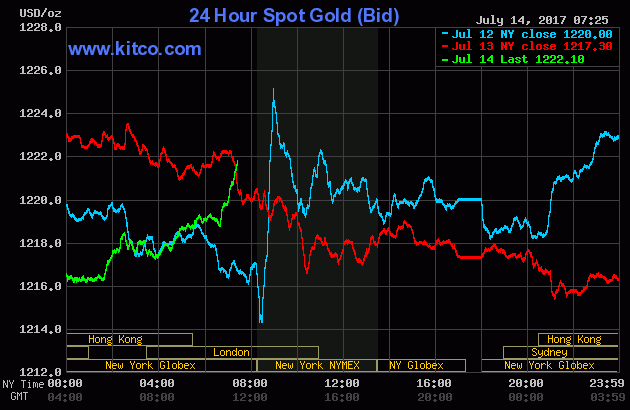 Meantime, the U.S. dollar index is slightly lower early today. The greenback bears have the firm near-term technical advantage amid a solid price downtrend.
By Jim Wyckoff, contributing to Kitco News; jwyckoff@kitco.com