Tesla Inc. (Nasdaq: TSLA) recently unveiled its Model 3 car, marking the company's first "affordable" electric car. CEO Elon Musk tweeted photos of the first car to roll off the assembly line in the company's Fremont, Calif., factory. And he promised that the first 30 customers would receive their Model 3s by the end of July, with production increasing to 20,000 a month by year end.
While the new model 3 is certainly a catalyst for Tesla stock in 2017, it's far from the only reason for long-term optimism…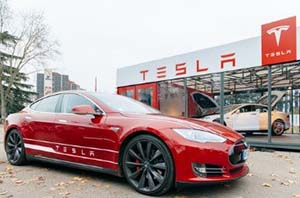 The new sedan has an expected price tag of about $35,000, and at least 400,000 people have reportedly put down $1,000 deposits for it already. The company hopes it will help bring production up to 500,000 vehicles by the end of 2018. Compare that to the 76,000 vehicles it delivered in 2016, and 25,000 vehicles in the first quarter of this year.
Clearly, there is a lot riding on the Model 3's success.
At that price point, the Model 3 is also Tesla's first step in producing a mass-market product. In fact, Tesla said that its mission is to accelerate the world's transition to sustainable energy. A noble goal, indeed.
However, what might be better for most buyers is the "cool factor" of finally being able to afford a Tesla at all. Perception is everything with branding – and with the price of a company's stock.
Trending: The Best Stocks to Buy for Mega-Profits in 2017
This can only serve as another catalyst for the company and the Tesla stock price going forward. But for all of the excitement the Model 3 is generating, there is a much bigger reason to be bullish on Tesla stock in 2017…
The Real Reason to Buy Tesla Stock in 2017
While the new driveway bling may be nice, the real catalysts for Tesla stock have nothing to do with cars, as we've been saying at Money Morning for years.
Money Morning Chief Investment Strategist Keith Fitz-Gerald has been talking about how Tesla should be viewed as a battery company, and viewed through that lens, it is a stock to buy and hold for the long term (at least five years).
As a car company, it garnered roughly a 0.4% share of all vehicles sold in the United States in 2016. Not much of a player.
But as a battery company, it can revolutionize several industries, from utilities to power storage to transportation…