Bitcoin exchanges get hacked.
It's an issue that's dogged Bitcoin almost since it started trading in 2010. And it's the source of one of the Bitcoin's most pervasive myths.
When a Bitcoin exchange is hacked, many in the mainstream financial media assume the hack resulted from a flaw in the cryptocurrency itself. So that's the story that gets out. And the Bitcoin price falls. Last August's Bitfinex hack shaved 23% off the Bitcoin price in one day.
Yet the Bitcoin protocol has never been hacked.
The hackers aren't attacking Bitcoin itself, but exploiting weaknesses in the security of the Bitcoin exchanges. Unfortunately, this happens with alarming frequency…
Bitcoin Exchanges Are Too Vulnerable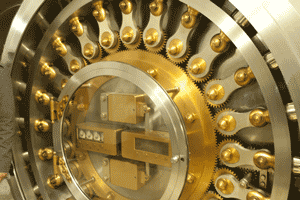 According to a report commissioned last year by the U.S. Department of Homeland Security, one-third of all Bitcoin exchanges were hacked between 2010 and 2015.
The latest incident occurred earlier this month when the South Korean Bitcoin exchange Bithumb was hacked. Data belonging to 30,000 customers was compromised. As much as $1 million worth of bitcoin was stolen. The price of Bitcoin suffered a two-day drop of about 3.5%.
Bithumb said an employee's PC was hacked, which gave the attackers access to customer data.
Last August, hackers took 120,000 bitcoins from the Hong Kong-based Bitfinex exchange, worth $65 million at the time. The weak link in that case was a "hot wallet" feature the company had implemented with another Bitcoin company, BitGo.
BRILLIANT: Average Americans Are Becoming Marijuana Millionaires
The frequency of Bitcoin exchange attacks is concerning, but should not be misinterpreted as a reason to dismiss Bitcoin.
That would be like giving up on the U.S. dollar because a bank was robbed. If criminals successfully rob a bank, the problem is with the bank's security, not with the money stored in the building.
In fact, the Bitcoin code uses one of the most powerful security protocols in the world…
Why Bitcoin Itself Has Never Been Hacked
The Bitcoin code that drives the network uses a security protocol known as SHA-256. The letters stand for "secure hash algorithm." It's literally the reason Bitcoin is called a "cryptocurrency."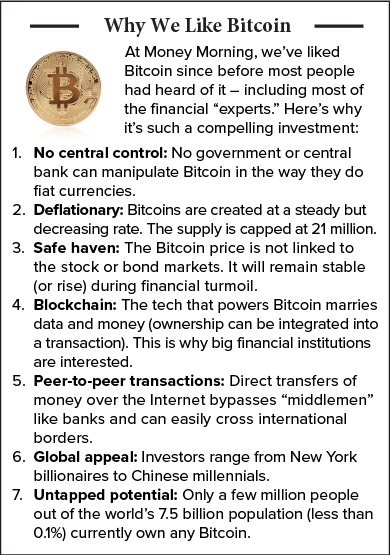 Not surprisingly, SHA-256 was designed by the National Security Agency (NSA). It's widely used by businesses and the U.S. government.
SHA-256 is sufficiently complex that cryptography experts consider it unbreakable by current technology.
"Bitcoin itself, and most of the other cryptocurrencies, have never been hacked or even really had any downtime," Chris Wilmer, founder of the blockchain-focused academic journal Ledger, told The Outline.
Because of SHA-256, and the fact that each Bitcoin transaction is broadcast to the network for confirmation, Bitcoin is one of the most secure forms of money ever created.
Think about it. Physical forms of money, such as cash, can be stolen and are difficult to trace. A stolen checkbook exposes your bank account and creates hassles that take months to resolve.
Credit and debit cards are not much better. In recent years, these older forms of "digital money" have become relatively easy prey for hackers.
Credit card breaches at retailers are almost routine now. There was Target Corp. (NYSE: TGT) in 2013 and Home Depot (NYSE: HD) in 2014. There was Neiman Marcus and Wendy's Co. (Nasdaq: WEN) in 2016. And this year Chipotle Mexican Grill Inc. (NYSE: CMG), Arby's Restaurant Group, and Kmart Corp. were hit.
Related: How to Buy Bitcoins – Your Guide to Digital Profits
The key to keeping Bitcoin safe is to avoid storing the cryptocurrency at the Bitcoin exchanges.
Here's how you can do that…
How to Protect Your Bitcoin from Hackers