The Fed balance sheet is the nearly $4.5 trillion in assets – from government bonds to mortgage-backed securities – the Fed bought between September 2008 and October 2014 as a way to stimulate the economy after the financial crisis.
Now, the Fed will unwind its balance sheet "relatively soon," according to Fed Chair Janet Yellen. However, Money Morning Technical Trading Specialist D.R. Barton, Jr., says selling those assets could create volatility in the stock market in coming months.
Starting in 2008, the U.S. Federal Reserve launched an asset-buying campaign to stabilize the economy during the financial crisis. The Fed initially bought over $1 trillion in assets in 2008, and it continued its policy of quantitative easing (buying assets to inject money into the economy) until October 2014, when its balance sheet reached $4.5 trillion.
You can see how the Fed's purchases tapered off by the end of 2014 in the chart below.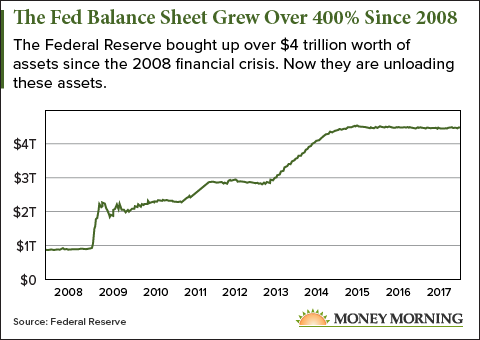 Now the Fed is planning to sell down its $4.5 trillion balance sheet, according to Yellen's congressional testimony this week (July 12). The Fed's trillion-dollar balance sheet can distort the market by taking these assets out of circulation and funneling investors into different, often riskier, investments.
According to Barton, this massive unwinding could lead to volatility in the stock market.
"This could have profound implications for the economy and markets," Barton said last Friday (July 7).
Urgent: An $80 billion cover up? Feds use obscure loophole to threaten retirees… Read more…
Barton says the market's reactions to the Fed's asset sell-off will unleash "the kind of volatility we haven't seen in ages."
The CBOE Volatility Index – often called Wall Street's "fear gauge" – is currently sitting at 9.74, a five-year low, and it's down 66% from its 2016 high of 27.59. That means investors have been enjoying a calm market recently, and the Fed is about to make waves.
If Wall Street's "fear gauge" rises thanks to the Fed, some investors may panic – particularly after the Dow's recent tear, rising nearly 10% on the year to a current intraday high of 21,625 today.
But Barton says the Fed inducing volatility is actually "great news for traders."
Here's how Barton says investors can profit from the Fed's "big opportunity" when it sells off its assets…
How to Profit from the Fed Balance Sheet Unwinding