Silver prices are proving resilient once again, despite closing last week with a sell-off after silver's latest "flash crash." Silver prices still managed to post a 3.3% weekly gain from the $15.37 close on Friday, July 7, to $15.88 on Friday, July 14.
Aided by more dovish-than-expected statements from Federal Reserve Chair Janet Yellen and a drop in the U.S. Dollar Index (DXY) from 96 to 95.13 last week, silver seems to have bottomed out. The 3.3% rise last week came after the silver price fell on July 7 to its lowest level since April 8, 2016.
That recent bout of weakness for the price of silver also caused a spike in the gold/silver ratio. So far this month, the ratio is up 3.8%, from about 74.72 to 77.58. This means it now takes 77.58 ounces of silver to purchase one ounce of gold - an indication that the silver price is very cheap right now. Cheap silver typically entices investors to buy in, which would lead the silver price higher this year.
This supports my view that those holding their silver positions will be rewarded with double-digit returns in the coming months. That's why I'm going to share my 2017 silver price prediction with you today.
First, let's look at silver's important rebound last week...
Silver Prices Gain 3.3% Last Week (July 7-14)
After settling at a 15-month low of $15.37 on Friday, July 7, the price of silver opened lower on Monday, July 10, at $15.35. Despite those early morning losses, it continued higher from there throughout the day and settled at $15.64 for a 1.8% gain.
Tuesday brought a similar early morning dip down to $16.46, but then increased buying caused the metal to climb through the afternoon. There's no denying that the DXY's fall from around 96.18 to 95.68 by mid-afternoon supported silver prices. They eventually closed at $15.83 for a 1.2% gain on the day.
For perspective, here's a look at the DXY's performance last week...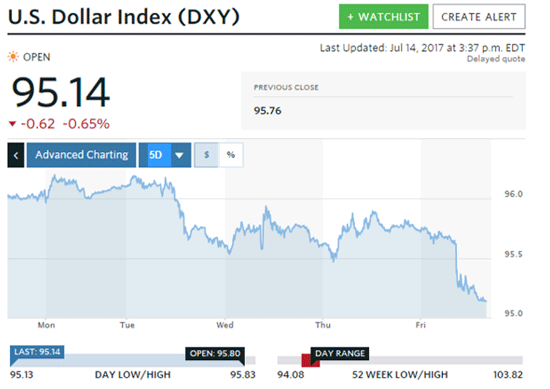 On Wednesday, July 12, Janet Yellen began her two-day appearance before Congress to give the semiannual monetary policy report. Her statements were interpreted as being accommodative toward U.S. monetary policy, meaning she didn't advocate raising interest rates as rapidly as previously expected. Her testimony pushed silver 0.4% higher to close at $15.89.
Trending: The Ultimate Guide to Silver and Gold Investing - Free Report
But silver investors and traders came in for profit-taking on Yellen's second day before Congress on Thursday. Silver opened at $15.87, nearly unchanged from its previous close. However, the dollar bounced and silver backed off as a result. After trending lower all day, the silver price dropped 1.4% to $15.67 by the end of the session.
Friday saw a big rebound from the previous day's decline. As the DXY lost another 50 basis points overnight, silver prices surged above the $16 level shortly after the open - the highest price since July 3. From there, it backed off as profit takers sold their positions, but the price of silver still closed at $15.88 for a 1.3% rise.
And the silver price today (Monday, July 17) is continuing last week's 3.3% rebound with another leap higher. The metal is up 1.5% today and trading at $16.12.
After last week's much-needed rally, silver investors want to know where the metal could go from here. The way I see it, silver's like a coiled spring that could be released at any moment for a big leg higher.
Here's exactly where I see the silver price heading by the end of 2017...
My Bullish Forecast for Silver Prices in 2017
Join the conversation. Click here to jump to comments…
About the Author
Peter Krauth is the Resource Specialist for Money Map Press and has contributed some of the most popular and highly regarded investing articles on Money Morning. Peter is headquartered in resource-rich Canada, but he travels around the world to dig up the very best profit opportunity, whether it's in gold, silver, oil, coal, or even potash.