Smart investors are looking for the best clean energy stocks right now, because the renewable energy industry is poised for triple-digit growth over next two decades.
The U.S. Energy Information Administration (EIA) predicts the renewable energy sector will produce 100% more energy by 2025. And electricity produced from solar energy alone will grow over 500% by 2040. That makes investing in clean energy stocks one of the best ways to profit from this huge industry growth rate.
Investors can capitalize on this industry's growth potential, but they need to get in early on the right stocks. Because the renewable sector is still growing, not all renewable energy stocks are worth owning right now.
Utility Companies Spent $400 Million to Kill This Fuel: It can power your car, heat your home, and even run entire factories. Click here to read more…
That's why Money Morning is going to show you exactly which clean energy stock to buy right now.
And the top alternative energy stock we're going to show you today actually received a major catalyst when President Donald Trump decided to withdraw from the Paris Climate Agreement…
Why Clean Energy Stocks Are Still a Buy After Paris
The Trump administration's decision to pull the United States out of Paris might tempt investors to avoid clean energy stocks. That would be a mistake. Money Morning Global Energy Strategist Dr. Kent Moors advises that renewable energy is now an essential part of the global energy supply, and the United States' participation in the Paris Climate Accord won't change that.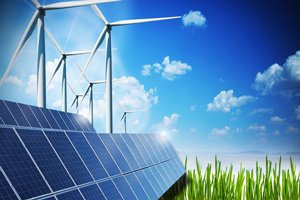 On June 1, President Trump announced the United States will withdraw from the Paris Climate Agreement. This is a voluntary agreement ratified by 195 countries (other abstainers include Syria and Nicaragua) that promises to fight climate change in part through a commitment to renewable energy resources.
But Moors reminds readers that the Paris agreement was voluntary and non-binding, so the U.S. withdrawal is unlikely to change the global demand for renewable energy. If anything, the U.S. withdrawal will make China and Europe leaders in the clean energy field.
Here's why renewable energy's growth is unstoppable…
The Renewable Energy Industry Is on an Unstoppable Growth Trajectory
The main reason renewable energy is here to stay is the growing global demand. According to the EIA, worldwide demand for energy is projected to rise 25% by 2040. Because traditional fossil fuels will eventually run out, the world will rely on renewable energy, especially as its costs drop.
"Solar and wind may be the up-and-coming sources of energy, with costs tumbling fast," says Moors.
A United Nations report on energy found that 55% of all new power in 2016 came from alternative energy sources, and falling costs are one of the main reasons why.
Top Story: Why 2017 Is the Year for Investing in Renewables
The EIA now reports that wind energy is the cheapest source of new electrical power in the United States. Wind energy has a minimum cost of $44.30 per megawatt hour, undercutting the leading source of electrical power right now, natural gas, which costs $53.80 per megawatt hour.
But solar energy has the most profit potential of all renewable energy sources…
In the last year alone, the cost of solar energy has dropped 10%, and solar energy has reached grid parity in 20 states, from New York to California. Grid parity means electric power produced from solar energy costs the same as traditional sources of energy like coal and natural gas.
Falling prices and grid parity are why the EIA forecasts solar energy will produce 60% more electricity in 2018 and a whopping 500% more by 2040.
That massive 500% growth potential could bring life-changing profits for investors who know where to look.
And that's why we're recommending one of the best renewable energy stocks to buy in 2017.
This company is already a leader in providing solar power across the world, and its global leadership means this company is primed to capitalize on the explosive growth in the renewable energy sector…
One of the Best Clean Energy Stocks to Own in 2017